Lilts is the new collaboration between Wild Pink's John Ross and Laura Wolf, who have today shared their debut single, 'Dodge Street'. It's set to appear on an upcoming EP called Waiting Around, which is out October 13 via Better Company Records. Listen below.
"'Dodge Street' was written as a game of telephone," Wolf explained in a statement. "John sent me a voice memo called 'Dodge Street' after the name of the street where he happened to be parked. I chopped up the recording of his guitar strumming, reimagined the chord progression and sent him back a song structure with a vocal melody. He interpreted my demo with added bass and drums and from there I built a lyrical scenario originally intended to rhyme with 'Dodge Street.' Though the title didn't make it into the song, the heart of the title remained. 'Dodge Street' is about the disappointment of living for someone's else's dreams."
Wild Pink released their latest LP, ILYSM, last year.
Waiting Around Cover Artwork: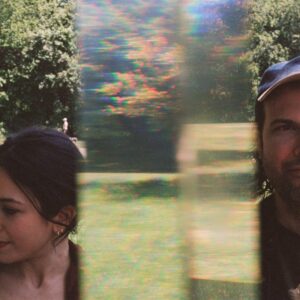 Waiting Around Tracklist:
1. Dodge Street
2. Kiss Your Face
3. Too Late
4. Waiting Around