Mary Lattimore has announced a new album, Goodbye, Hotel Arkada, which is set to arrive October 6 via Ghostly. To accompany the news, the American harpist and composer has shared a video for the lead single 'And Then He Wrapped His Wings Around Me', which features Meg Baird and Walt McClements. Check it out and find the LP's cover artwork and tracklist below.
The new album takes its name from a hotel on the island of Hvar in Croatia. "There's a big old hotel there called the Hotel Arkada, and you could tell it had been hosting holiday-goers for decades in a great way," Lattimore explained in a press release. "I walked around the lobby and the empty ballrooms and it looked like a well-worn, well-loved place. My friend Stacey who lives there told me to 'say goodbye to Hotel Arkada, it might not be here when you get back' and I heard soon after that it was actually going to be renovated in a very crisp, modern way."
Goodbye, Hotel Arkada also features contributions from Lol Tolhurst of the Cure, Slowdive's Rachel Goswell, Roy Montgomery, and Samara Lubelski. Lattimore added, "When I think of these songs, I think about fading flowers in vases, melted candles, getting older, being on tour and having things change while you're away, not realizing how ephemeral experiences are until they don't happen anymore, fear for a planet we're losing because of greed, an ode to art and music that's really shaped your life that can transport you back in time, longing to maintain sensitivity and to not sink into hollow despondency."
Last year, Lattimore released West Kensington, a collaborative LP with Paul Sukeena.
Goodbye, Hotel Arkada Cover Artwork: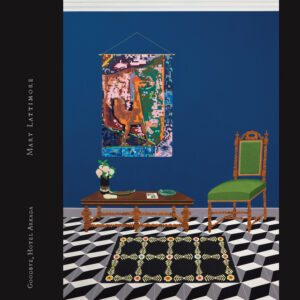 Goodbye, Hotel Arkada Tracklist:
1. And Then He Wrapped His Wings Around Me [feat. Meg Baird and Walt McClements]
2. Arrivederci [feat. Lol Tolhurst]
3. Blender in a Blender [feat. Roy Montgomery]
4. Music for Applying Shimmering Eye Shadow
5. Horses, Glossy on the Hill
6. Yesterday's Parties [feat. Rachel Goswell and Samara Lubelski]