Supernatural horror has enjoyed a significant resurgence in America over the last fifteen years. Following an era of horror cinema defined by franchise remakes and "torture porn" films such as the original Saw series (2004–2010), ghosts, demons and haunted houses came back into vogue with the release of Paranormal Activity (2009), Insidious (2010), Sinister (2012) and The Conjuring (2013), all of which were hugely successful and spawned many sequels and imitators. In fact, The Conjuring has since produced one of the most lucrative horror franchises of all time, while Insidious: The Red Door (2023) has made $176.2 million at the International box office since its release in July. An effective and suspenseful tale of a teenager under attack by a folkloric creature, Bishal Dutta's feature debut It Lives Inside fits neatly into this contemporary supernatural horror cycle – but it is also a welcome corrective to its troublesome tendency to concentrate on white, Christian families. Our Culture reviews the film here as part of its selection form the 2023 Fantasia International Film Festival.
It Lives Inside follows Samidha (Megan Suri), an Indian-American teenager living in a traditional household, where – not least due to her overbearing mother Poorna (Neeru Bajwa) – she doesn't quite feel at home. She doesn't feel particularly welcome at her high school, either, where she is often made to feel different and has distanced herself from her childhood best friend Tamira (Mohana Krishnan) in order to assimilate with her white classmates. Samidha has reached a particularly tumultuous period in her life – as she feels constantly torn between her Indian heritage and her everyday life in America – when Tamira approaches her with a mason jar she claims is home to a dark entity: a pischaca, a demonic creature that feeds on negative emotions. When the jar is smashed, the pischaca is released and Samidha's life is turned upside down. As the demon ruthlessly targets her friends and family, Samidha turns to her new boyfriend Russ (Gage Marsh) and her teacher Joyce (Betty Gabriel) for help.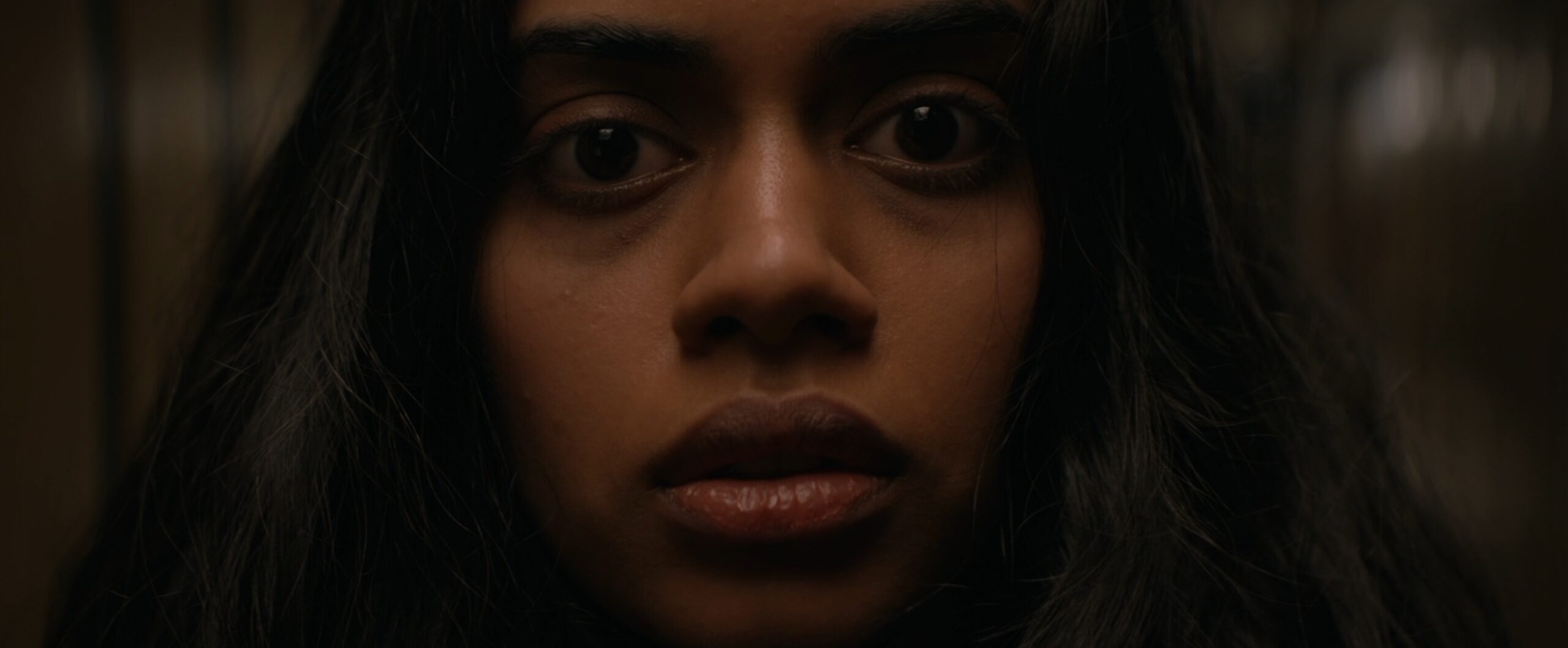 So, one stark difference between It Lives Inside and its forebears in the current supernatural horror cycle is fairly apparent from a synopsis alone. Where the films in the Paranormal Activity, Insidious, Sinister and Conjuring series concentrate (with very rare exceptions) on white, Christian and invariably middle-class families in peril, It Lives Inside focuses on a working-class Indian-American family and uses its demon as a metaphor for Samidha's desire to extricate herself from her Hindu heritage. Early in the narrative, she is pictured shaving her arm hair and experimenting with filters on her selfies in order to lighten her skin. She purposely "forgets" to take the lunch her mother has prepared with her to school, and balks when her friend Kitty (Paige Shaw) asks her to speak Hindi. Samidha is, clearly, uncomfortable with – perhaps even ashamed of – her difference, and it is these "negative emotions" that the pischaca feeds upon once it has been unleashed from its makeshift prison. Ultimately, Samidha can only combat the demon by coming to accept her heritage and find a balance between the two cultures she belongs to.
Like Keith Thomas's The Vigil (2019), then, It Lives Inside offers a much-needed fresh perspective on supernatural horror and representation for a marginalised community that is not often allowed to take centre stage in American genre cinema. Where Thomas's film draws upon Jewish folklore to tell the tale of two men haunted by a Mazzik (an invisible demon that functions in the film as a manifestation of trauma inflicted by antisemitic violence), It Lives Inside reworks a creature common to several Indian religions to explore the immigrant experience. And that is not all that It Lives Inside shares in common with The Vigil. Firstly, in kind with Thomas's film, Dutta's debut boats production values that easily rival the big-budget supernatural horror films that have dominated at the box office since 2010, largely due to Matthew Lynn's excellent cinematography. Secondly, It Lives Inside is – very much like The Vigil – nail-bitingly suspenseful and, in places, genuinely unsettling as the demon's activities become more violent.
The film is particularly effective because, for most of its running time, the demon at the centre of the plot is an invisible force. In one scene, its eyes stare ominously at Samidha from her bedroom closet – but otherwise it is an ethereal being that strikes without warning. It's all too common for horror filmmakers to show their monster too early (thus draining them of all their power), but here the pischaca is hidden until the third act. When it finally does appear unconcealed – realised using a mixture of practical FX and CGI – it is a truly hideous creation more than worth waiting for. If there is one criticism to be levelled at the film, it is that it feels a little too generic in its second half, as the monster's victims are dragged around on wires in a manner strikingly reminiscent of mainstream franchises. But, honestly, it's a minor complaint to make about a film that otherwise offers a refreshing and vital alternative to big-budget studio horror.