Maria BC has signed to Sacred Bones, which will release the Bay Area artist's sophomore LP, Spike Field, on October 20. Two songs from the album, 'Amber' and 'Watcher', are out today. Check them out below, along with the cover artwork, tracklist, and Maria BC's newly announced UK and European tour dates.
Spike Field follows Maria BC's 2022 debut album Hyaline. "I had a very strong tendency to want to destroy any previous version of me," they explained in a statement. "I wanted to erase the memories of anyone who knew me more than a year ago. It's the effect of shame."
Speaking about 'Amber', Maria BC said: "Make the mirrors windows" – this line sums up the whole song. I'm reaching out to you so that you might draw me out of myself, out of fear and self-scrutiny, into connection and desire. It's a love song."
Of 'Watcher', they added: "On 'Amber', the lyrics are about reaching out to receive connection; here, the lyrics are about anticipating that gesture and preemptively reaching down in recognition, like, 'I see you're in pain, I'm here for you. I'm sorry it's taken so long.' But unlike in 'Amber', that moment of connection never comes. You can't wish someone's pain away. You can bear witness to them, but validation can't undo the past. You have to hold it together, and hold them. It's difficult. Sometimes you run out of words, like in this song, which opens with this grandiose angelic choir and then just kind of…trails off."
Check out our Artist Spotlight interview with Maria BC.
Spike Field Cover Artwork: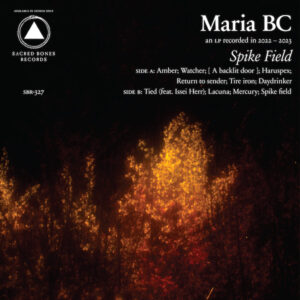 Spike Field Tracklist:
1. Amber
2. Watcher
3. [ A backlit door]
4. Haruspex
5. Return to sender
6. Tire iron
7. Daydrinker
8. Tied
9. Still
10. Lacuna
11. Mercury
12. Spike field
Maria BC 2023 Tour Dates:
October 25- Portugal, Lisbon, ZDB
October 26 – Belgium, Brussels, Botanique
October 27 – Netherlands, Amsterdam, London Calling
October 27 – UK, London, MIRRORS Festival
October 29 – UK, Bristol, Crofters Right
October 30 – UK, Glasgow, Glad Cafe
October 31 – UK, Leeds, Headrow House
Nov 1 – UK, Manchester, Soup Kitchen
Nov 2 – UK, Brighton, Mutations Festival
Nov 3 – UK, London, Rough Trade West