The lush landscape of the Adirondacks stands as a testament to the raw and unspoiled beauty of the natural world. This vast and diverse wilderness is famous for its towering peaks, pristine lakes, dense forests, and abundant wildlife. A haven for outdoor enthusiasts, the Adirondacks offers a multitude of recreational opportunities just waiting to be explored. These must-read books will inspire you to get outside, whether you are a local or a first-time visitor.
Hikes for Every Level
Bill Ingersoll takes you on a journey through the Adirondacks in 50 Hikes in the Adirondack Mountains, with hikes for all experience levels. Whether it's fire towers, waterfalls, caves, or wetlands, Ingersoll's companion guide with detailed tips, like exact odometer readings, will show you the way.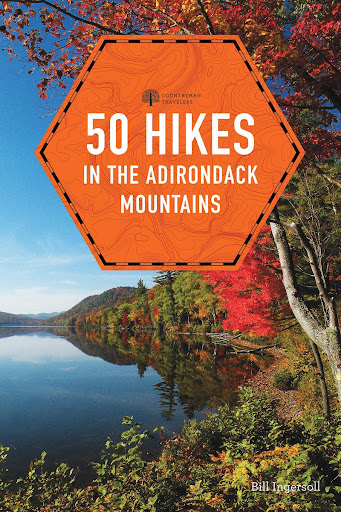 A five-mile round-trip hike to Moxham Mountain through forests and wetlands will deliver some of the most spectacular views in the Adirondacks. The trail is for beginners to intermediate hikers with a few steep ascents.
For more views, hike the two-mile round trip Blue Mountain trail for striking views of Blue Mountain Lake, including a fire tower built in 1917 at the summit. Take a self-guided hike to the Natural Stone Bridge and Caves out of Pottersville to see ancient Adirondack geology. Descend into lighted marble caves and grottos with ever-changing sculptured walls to view the natural wonder of nature. 
Pedal Through the Adirondacks
Biking is a great way to see the Adirondacks and Green Goat's guide to the best cycle training and rides; Map Cycling Lake Placid and Saranac Lake, which will take you from Paul Smiths to Keene Valley to include routes around Whiteface Mountain. 
For an introduction to the area, start in downtown Saranac Lake and take a 31.4-mile cycle along Three Lakes Loop as you pass by Little Colby Pond, Lake Clear, and Upper St. Regis Lake. 
The mountain bike culture is big in Lake Placid. For the experienced biker, the Lussi Trails take you through private land with diverse terrain. For a more rigorous ride, chance an adventure on Cinderella Story, Lumberyard, or Ty's Ties. 
Whiteface Region is the Biking Capital of the Adirondacks. Road, mountain, downhill, and fat tire cycling are all welcome here. Roadways are surrounded by lakes, mountains, and rivers, with enough variety to challenge you.
Hike the Peaks
Forty-six high peaks dominate the Adirondacks, and a detailed map is essential to get you there. Enter, Trail guide and map to HP, including a National Geographic waterproof and tear-resistant paper map that will lead you to the best spots for year-round activities.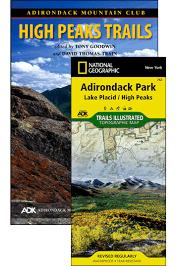 First, determine your activity level, then follow the guide. Popular hikes include the massive, isolated Lyon Mt. in the north and the small, steep Cheney Mt. in the east, as well as the Champlain Area Trail System. The map trails are clearly marked for biking, cross-country skiing, hiking, or horseback riding. More features include campgrounds, boat launch sites, fishing access, elevations for summits, lakes, and mileage between intersections. It's a must-read book for peak climbers.
For the Kids
Old Forge, in the central Adirondack region, is the perfect base camp for visitors, with activities galore for kids. From here, you'll have access to hiking, horseback riding, biking, snowshoeing, cross-country skiing, or snowmobiling. Visit the abolitionist John Brown's farm in Lake Placid, where you'll find well-groomed trails, and children can study wildlife and plant life in different settings. 
Kids will love the Adirondack Interpretive Center in Newcomb, with interactive displays and nearly four miles of trails through lakeshores, rivers, forests, and wetland ecosystems. Learning opportunities abound as you discover the cultural and natural history of the Northern Forest.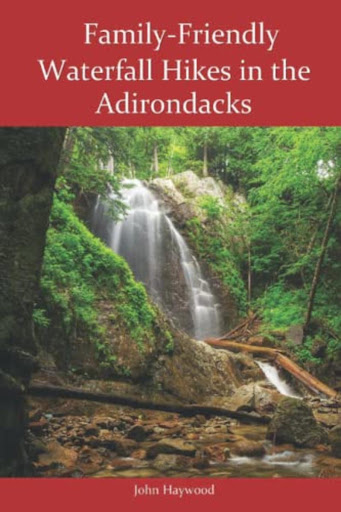 John Hayward has compiled a list of easy-to-access waterfall hikes, some roadside, for the average hiker and families in Family-Friendly Waterfall Hikes in the Adirondacks. Hayward's goal is to maximize the adventure aspect and get you there quickly with scannable QR codes to get directions and navigation from Google Maps. 
To prepare for your trip, review these tips for kid-friendly hiking.

Learn About History Through Art
Take a break from hiking and head to the Adirondack Experience, a multi-faceted museum with over 120 acres overlooking Blue Mountain Lake. This is no ordinary museum: It's an open-air campus where you can take part in activities like breaking up a logjam, climbing a classic ADK fire tower, and rowing an authentic guideboat. Not to be missed is the Artist & Inspiration in the Wild exhibits. Over 200 inspired works illustrate the rich traditions of Adirondack art and serve to interpret the vibrant culture of the region from the first inhabitants to the present day. The natural wonders of the region are represented by four distinct galleries: Light, Forest, Mountain, and Water, and each delves deep into the artistic heritage of the Adirondacks.
Where to Find Must-Read Books on the Adirondacks
The Adirondacks endure as a true gem within the tapestry of natural wonders, offering a refuge for both the intrepid adventurer and the soul in search of tranquility. Unspoiled and wild, it represents a connection between nature and humanity and beckons to be explored. Check out Bookstore Plus' vast collection of books and guides to help you easily navigate this natural wonder.