Chromeo have announced a new album, Adult Contemporary, which arrives on February 16, 2024. It will feature the previously released songs 'Words With You', 'Replacements', and '(I Don't Need A) New Girl', as well as the new single 'Personal Effects'. Check out its Spencer Ford-directed video and find the album artwork and tracklist below.
"This is the last song we added on the album," Dave Macklovitch, aka Dave 1, said in a statement. "I was on a flight and the pilot said, 'please don't forget your personal effects' and I was like, 'wait how come this isn't a Chromeo song title?!' We felt like we needed a little breezy funk…something warm and fuzzy to bop to."
"You notice that long instrumental bit at the end?" he continued. "That's definitely a motif on the album: extended sections where we let the music ride out. Adult Contemporary is a meditation on modern, mature relationships, which means: if we gotta sing about curling irons, so be it."
Adult Contemporary marks Chromeo's first proper LP since 2018's Head Over Heels.
Adult Contemporary Cover Artwork: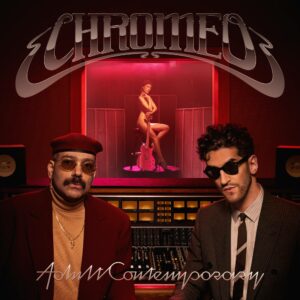 Adult Contemporary Tracklist:
1. (I Don't Need A) New Girl
2. Got It Good
3. Lost And Found
4. BTS
5. Replacements (Featuring La Roux)
6. Lonesome Nights
7. Personal Effects
8. She Knows It (Personal Effects Pt. 2)
9. Ballad Of The Insomniacs
10. CODA
11. Words With You
12. A Cut Above
13. Friendsnlovers
14. Two Of Us (Friendsnlovers Pt. 2)