Cher has announced her first-ever Christmas album, Christmas, which comes out October 20 on Warner Records. It features guest appearances from Stevie Wonder, Cyndi Lauper, Michael Bublé, Tyga, and Darlene Love. The first single, 'DJ Play A Christmas Song', is out today. Listen to it below.
"I never say this about my own records but I'm really proud of this one," Cher remarked in a statement. "It is one of the most amazing highlights of my career."
Speaking about collaborating with Wonder on 'What Christmas Means to Me', she said: "Every time I hear that harmonica, I'm a teenager again. It's a personal dream come true for me to record this song with Stevie."
Christmas marks Cher's first studio album since her 2018's Dancing Queen, a collection of Abba covers.
Christmas Cover Artwork: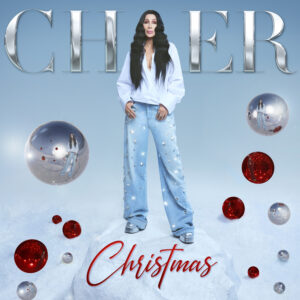 Christmas Tracklist: 
1. DJ Play A Christmas Song
2. What Christmas Means To Me [with Stevie Wonder]
3. Run Run Rudolph
4. Christmas (Baby, Please Come Home) [with Darlene Love]
5. Angels In The Snow
6. Home [with Michael Bublé]
7. Drop Top Sleigh Ride [with Tyga]
8. Please Come Home For Christmas
9. I Like Christmas
10. Christmas Ain't Christmas Without You
11. Santa Baby
12. Put A Little Holiday In Your Heart [with Cyndi Lauper]
13. This Will Be Our Year