Water From Your Eyes have announced Crushed By Everyone, a song-by-song rework of the duo's latest album Everyone's Crushed. It's out November 17 via Matador. Today, they've shared Mandy, Indiana's remix of 'Remember Not My Name', Sword II's take on 'Open', and fantasy of a broken heart's version of 'Buy My Product', as well as their own reimagining of 'Barley'. Take a listen below.
"It's amazing to live at a time in which so many incredible musicians have the ability not only to inspire us, but to envision our existing works in their own unique practices," Water From Your Eyes said in a statement. "We are so grateful that all of these talented artists spent their invaluable time and energy on this project. We hope that you enjoy listening to these remixes as much as we have."
Check out our Artist Spotlight interviews with Water from Your Eyes and Mandy, Indiana.
Crushed By Everyone Cover Artwork: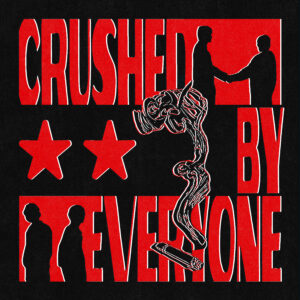 Crushed By Everyone Tracklist:
1. Structure (The Cradle Version)
2. Crushed Barley
3. Out There (The Dare Version)
4. Open (Sword II Version)
5. Everyone's Crushed (Kassie Krut Version)
6. True Life (Nourished by Time Version)
7. Remember Not My Name (Mandy, Indiana Version)
8. 14 (Jute Gyte Version)
9. Buy My Product (fantasy of a broken heart Version)