From the slasher sub-genre's peak year comes The Burning, a grizzly and graphic horror with spectacular makeup effects by master of the macabre, Tom Savini. Whilst its death sequences are gloriously gory and some secondary characters are funny and engaging, the film struggles to realise its lead protagonists, leaving them devoid of charisma or depth.
In a horrific prank gone awry, Camp Blackfoot caretaker Cropsy (Lou David) is horrifically burned – almost to death. Years later at the idyllic Camp Stonewater, a large group of teenagers led by Todd (Brian Matthews) and Michelle (Leah Ayres) are enjoying their summer escape. Among them are bully Glazer (Larry Joshua), loveable class-clown Dave (Jason Alexander), goofy nerd Woodstock (Fisher Stevens), and outsider Alfred (Brian Backer). Things turn bloody as Cropsy – armed with a set of garden shears and hell-bent on revenge – stalks and murders anyone unfortunate enough to encounter him. Cropsy chases and corners Alfred in an abandoned barn, but Todd is not far behind. In confronting Cropsy, Todd's past is revealed – and so is his connection to the maniacal murderer…
Miramax's debut feature follows the standard slasher narrative. A killer stalks a group of isolated teenagers; dispatching them one-by-one in evermore gruesome ways. The Burning does not stray far from the familiar formula, and to that degree, the film suffers from the same issues so many slasher films do. Perhaps most significantly, the characters here are not developed. Many are likeable and genuinely engaging, but they rarely develop beyond their initial characterisation.
However, one aspect of The Burning that does differ from the slasher format is the film's lack of a 'final girl'. In most slasher films (though it is not exclusive to the sub-genre), the 'final girl' is the last surviving character. She is the only protagonist brave enough or smart enough to outwit (and often kill) the killer. The Burning instead has Todd and Alfred as the pair who finish Cropsy for good. This subversion of the familiar formula would be interesting, were it not for how bland both of these characters are. Todd is devoid of personality. He is the straightforward male American hero, developing beyond little more than his hands-in-pocket stances and generic 'we can do this' platitudes. Alfred on the other hand is admittedly more intriguing, but only because of how ambivalent one feels toward him. His is a character bullied and picked on and who clearly is uncomfortable in his own skin. This should have been an opportunity to craft a character with whom the audience could feel empathy – relating to the teenager struggling with his identity and those around him. Unfortunately, Alfred instantly tarnishes that potential when he spies on a girl whilst she's in the shower. Todd briefly reprimands Alfred, but nothing more is made of it. Alfred never acknowledges what he's done wrong, and that makes it incredibly difficult for the audience to forgive him, let alone forget that he's a pervert.
The secondary characters, however, are excellent. Jason Alexander (of Seinfeld fame) turns in a terrific performance as the chipper and funny Dave. His performance is comparable to John Belushi's Bluto in Animal House (1978) but with a more defined wit. Dave is a character who, whilst secondary to the narrative, always steals the scenes he's in. It is a shame more was not made of Jason Alexander's tremendous comedic skill. Nevertheless, even if the main protagonists of The Burning are dull or questionable, Alexander's Dave is worth watching for.
The same can absolutely be said of Fisher Stevens' Woodstock, the skinnier, dorkier answer to Dave. Much like Alexander, Stevens turns in a fun and charismatic performance. Seeing the likes of Dave and Woodstock defend Alfred when the overbearing Glazer decides to bully him genuinely makes them likeable. Having characters like Woodstock and Dave as both fun and genuinely compassionate people does something few slasher films manage: we don't want them to die. As soon as the audience has engaged with a performance like Stevens', the tension is ramped up when Cropsy comes along.
When Cropsy does drop in, to say it is bloody is an understatement. Tom Savini, the makeup master behind Dawn of the Dead (1978), Friday the 13th (1980), and The Prowler (1981), provides some excellent and genuinely shocking gore effects for The Burning. The infamous 'raft massacre' sequence is perhaps one of the standout moments of Savini's career. Fingers are chopped, necks are stabbed, and heads are sliced in arguably the film's most shocking moments. Glazer's death is equally as graphic as Cropsy drives his shears through the bully's neck before slamming him into a tree. An eerie synthesizer soundtrack, courtesy of Rick Wakeman, complements Cropsy's violent murders. The synthesizer screeches and jumps as Cropsy's shears go to work on his hapless victims.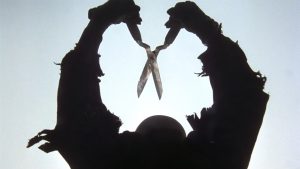 Whereas countless other slasher films of the decade suffered at the hands of the Motion Picture Association of America, (Friday the 13th Part 2 – released the same year – is tame in comparison to The Burning), Savini's makeup effects are front and centre in all their gory glory. It is perhaps little wonder that The Burning ended up on the infamous 'video nasties' list following the moral panic surrounding violence in cinema in Britain in the mid-'80s. Indeed, one of the film's greatest draws is its spectacular death sequences. In hindsight, however, had the film not had Savini on board, or had its gore been severely censored, The Burning simply would not be as memorable or entertaining as it is. Jason Alexander and Fisher Stevens turn in great performances, but due to the nature of being secondary characters, they would not be able to pull the film up were its gore toned down. Admitting this makes one's enjoyment of The Burning seem somewhat sadistic, though it is worth considering nonetheless.
Overall, The Burning is a film that lacks in its protagonists and admittedly would not be the film it is had Savini not provided such stunning makeup effects. Its lead characters are either bland like Todd or questionable like Alfred – unsatisfying either way. On the other hand, there is much enjoyment to be had with the film's secondary characters; namely Dave and Woodstock. Additionally, the synthesizer soundtrack fulfils one of the film's goals to terrify, as the low drone and thudding heartbeat that accompany Cropsy's point-of-view shots are genuinely chilling and unsettling. Cropsy himself is a terrifying visage, a man gone maniacal with rage and revenge. The Burning is far from perfect, but it is entertaining, and for fans of the genre provides plenty to praise.