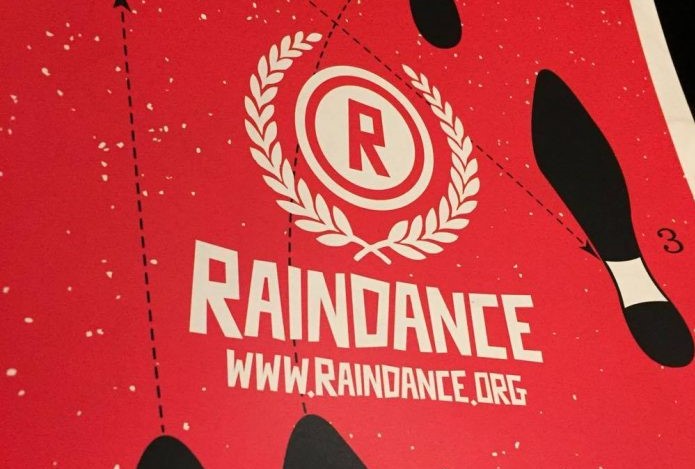 At the Programme Launch for the 25th Raindance Film Festival, the highly anticipated line-up was announced, along with a taste of the exciting crop of filmmakers and actors leading the festival's prestigious jury – which includes Christopher Eccleston, Sean Bean, and Ewan Bremner to name but a few.
Of the 200 feature and short films that will be screened as part of the 2017 festival, the following ten make up the international films in competition. The winner of this illustrious award will receive $1000 CDN in audio/video post-production services at Urban Post Production INC in Toronto – whose extensive portfolio includes the award-winning Orphan Black (2013 – 2017).
Maya Dardel – Zachary Cotler and Magdalena Zyzack – USA
In this US-Polish drama, we follow the final weeks leading to the death of internationally recognised writer Maya Dardel. On NPR, she announces her intentions to end her own life, and that young, male writers may compete to become executor of her estate. Until one of these aspiring writers uncovers the truth to Maya's end game, she leads a plethora of writers through intellectual and sexual challenges to meet her cryptic desires.
Starring: Lena Olin, Jordan Gavaris, Alexander Koch
Mukuko – Kazuyoshi Kumakiri – Japan – UK Premiere
Since his mother died and his father slipped into a coma, Kengo Yatabe's life has slumped into monotony. Once good at the martial art Kendo like his father, Kengo now wastes his time and shuffles through life as a security guard. However, upon meeting the young Tooru, Kengo's life changes as he receives a burst of inspiration.
Starring: Atsuko Maeda, Jun Fubuki, Kaoru Kobayashi
Noise – Kōichirō Miki – Japan – European Premiere
Departing from the romance of Botanical Books (2016), Kōichirō Miki takes us into a much darker place. Eight years after the real-life Akihabara massacre, two girls search for their role in life. With such a tragic foundation for Noise, this promises to be a fascinating – and perhaps uncomfortable – feature.
Starring: Ayami Nakajo, Jun Shison, Yuta Koseki, Yosuke Sugino
The Constitution – Rajko Grlc – Croatia – UK Premiere
With themes of nationality, sexuality, gender, and religion, director Rajko Grlc shows us four people who live in the same building learning to navigate one another. In perhaps a similar fashion to Rajko's 2010 feature Just Between Us, which looked into the social dynamics and taboos of infidelity, so too may The Constitution explore similar issues. This time however, the number of characters is larger, and a wider range of subjects is presented. The Constitution looks to be an intense and perhaps eye-opening look into how we perceive others.
Starring: Nebojsa Glogovac, Dejan Acimovic, Ksenija Marinkovic
Hello Again! – Tom Gustafson – USA – UK Premiere
A nurse. A soldier. A writer. A college boy. An Actress. A doomed husband. A bankrupt wife. A senator. A pro. A frisky young thing. Across time and through music, we see a glimpse of ten passionate love affairs in New York City. With its trailer boasting some gorgeous, rich colour tones, Hello Again! looks to compliment its lust-fuelled narrative with an equally vivid colour palette in this film adaptation of Michael John LaChiusa's celebrated musical.
Starring: Sam Underwood, Nolan Gerard Funk, Jenna Ushkowitz
The Traveller – Hadi Ghandour – France/Lebanon – UK Premiere
Love After Sunrise director Hadi Ghandour continues his cinematic exploration of individuals facing the realities of ideas they believed would fulfill them. The Traveller sees travel agent Adnan, from a small Lebanese village, sent to Paris on business. Adnan had dreamt of travelling, and the surprise assignment sends him on a journey that confronts him with temptations he cannot handle. Caught up in the bustle of Paris and his encounters with his attractive second cousin Layla, Adnan questions his whole life, identity, and family.
Starring: Rodrigue Sleiman, Donia Eden, Aïda Sabra
Swaying Mariko – Koji Segawa – Japan – International Premiere
Mariko, a housewife, has been with her young husband, Tomoharu, for six years. Growing more dissatisfied with each day, her personal and professional lives become unbearable. Faced with the fear that her husband may be cheating on her, and up against the unsolicited advancements from her sleazy boss, Mariko's hold on her life begins to falter.
Starring: Chise Ushio, Keita Yamashina
High & Outside: A Baseball Noir – Evald Johnson – USA – World Premiere
With Ernie Hudson (of Ghostbusters fame) headlining the film's cast, High & Outside looks to be a gripping portrayal of a man refusing to accept that his baseball career is ended. With his family, his reputation, and his own wellbeing at stake, director Evald Johnson looks to assert a character whose tragic and damaging struggle to maintain his glory days threatens all around him. High & Outside debuted its trailer in 2013, so it is an exciting prospect to finally have this intense drama's world premiere at the 25th Raindance Film Festival.
Starring: Ernie Hudson, Jason James Richter, Geoffrey Lewis, Lindsey Haun
Black Hollow Cage – Sadrac González-Perellón – Spain – UK Premiere
In what looks to be a taught science-fiction thriller, director Sadrac González-Perellón tells the story of a disabled girl who lives secluded in the woods with only her father and her dog for company. The girl finds a mysterious black cube deep in the forest. This engine of ambiguity holds untold powers, such as the power to change the past. The trailer shows off some stylish cinematography (courtesy of Iván Romero) and sports elegant production design.
Starring: Julian Nicholson, Daniel M. Jacobs, Lowena McDonell
Djam – Tony Gatliff – France
Cannes Film Festival veteran Tony Gatfliff puts a unique and compassionate spin on Southern Europe's financial and migrant worries. Djam is a young Greek woman whose father's restaurant business faces bankruptcy with Greece's precarious financial position. Her father tasks her with heading to Istanbul to retrieve a boat engine to power his ancient ship. In Turkey, Djam meets Avril, a 19-year-old French girl whose efforts to help with the Syrian refugee crisis have left her without a passport and unable to get home. The pair become travelling companions as Djam heads to fulfill her father's mission as bailiffs begin massing about his restaurant.
Starring: Daphne Patakia, Maryne Cayon, Simon Abkarian
This exciting and eclectic group of features will be screened over Raindance's 12-day schedule – running from the 20th of September to the 1st of October 2017 – at the VUE Cinema in Leicester Square, London.