Beautiful and chic outfits reminiscent of Paris. Paul Costelloe uses vibrant colours and and floral prints for his Spring Summer 18 collection.
The Presentation was held at the Waldorf Hilton Hotel, beautiful place but even more so when you enter the room for the presentation. The show starts off with a Parisian music and out comes the first three outfits.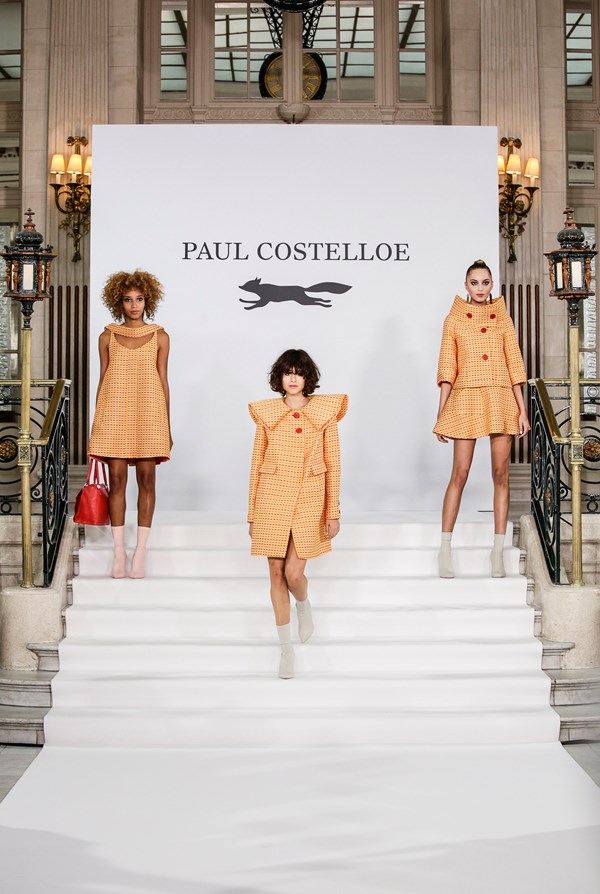 It's interesting to see how the garments keep its shape. The model in the middle has a frill at the shoulders, which curves around nicely at the same time it manages to keep a float at the shoulder seam. The colour red and the shade of yellow can be used as a transition colour from Spring to Summer.
A little further into the presentation  we see a couple of garments that are in what looks like a matte latex fabric. This look is effortless, the accessories go very well with the outfit from the glasses to the bracelet to the bag. This showcases what Paul Costello designs, not only does he do garments for both men and women but he also designs bags, eyewear, accessories and more.
The collection is full of colour ranging from pastels, dark colours, bright yellow, fuschia pink, teal and neutrals. The collection varies from formal and informal garments, from coats to skirts and trousers to formal dresses. The most interesting and eye catching for me is the print and embroidery. He uses a mixture of prints some floral, stripes, lines and shapes.
Here is the full view of the collection.