Battle of the Sexes brings back one of the most important events in the world of tennis in a refreshing and well-balanced manner – just as we hoped.
The film follows the story of the Billie Jean King (Emma Stone) who lives her life driven to become the greatest women tennis player of all time. On the other hand, we have a 55-year old retired tennis legend Bobby Riggs (Steve Carell) who lives with his rich wife and works a boring office job which he clearly dislikes. Full of 70's misogyny, feminism and Tennis this film is a rather refreshing take on this iconic tennis match between two totally different goal orientated characters.
The film starts out by King finding out that women Tennis players will be paid eight times less prize money than men by the United States Lawn Tennis Association. By finding out these insulting news King rebelliously goes on a journey to create her own tournament and because of this, it catches the attention of none other than Bobby Riggs, who tries to convince her to play him for money in the ultimate Tennis match. Whilst King rejects his offer to play, Kings' number one enemy Margaret Court (Jessica McNamee) does not. Court a driven, focused and better than everyone type character manages to beat King in her own tournament to the become number one tennis player in the world. With this result, the match of the century is on – the first battle of the sexes. Riggs versus Court. However, it all quickly comes crashing down for Court as she is schooled on the Tennis court by the leader of the male chauvinists Bobby Riggs. With this humiliating loss for women's Tennis King becomes determined to play Riggs, to prove to the world that women are just as good as men. And from this point, the film sets to play.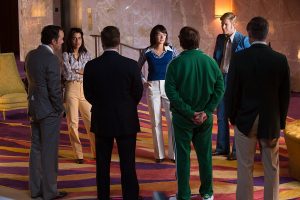 Behind all the Tennis this film's key selling point is the close-ups on the personal lives of Bobby Riggs and Billie Jean King. The most intriguing story being Billie Jean's tragic affair with Marilyn Barnett. The film explores this 70's taboo story well and even if at times it lacks emphasis it still shows the effect it had on King as a tennis player as because of this affair she struggled to focus on her tournament final match against Court, who she lost to. Whilst, the topic of two females loving each other was key to the film because it brought another dimension to the film, it lacked emphasis at times which really let down the great performance by Emma Stone. This was mostly due to the film having too much to cover in a short amount of time.
However, on a bigger scale the film did a decent job of showing the true world of the 70's as it opened the audience's eyes to the massive achievements of Billie King Jean who is a true hero in sports and feminism, whilst also exploring the politics behind Tennis and the extreme wave of male chauvinism that occurred during this historical match between Riggs and King.
Technically this film did outstandingly. The cinematography work of Linus Sandgren was splendid. Sandgren shot the film in 35mm and really managed to capture the look of the 70's with great framing that even made it feel documentary-like at times. In terms of editing, Palema Martin did a great job in moving the film's storyline forward, not wasting shots and keeping the audiences engaged with well-paced sequences. Showing the audiences what they need to see.
Overall, the film is an enjoyable watch. It has some great feminist messages and inspirational themes that really make it for a refreshing watch. The outstanding performance in this film is by Emma Stone, who did a terrific job to capture the life of Billie Jean King. Whilst, Steve Carell had some sparkling moments too with his 70's male type humour. Jonathan Dayton and Valerie Faris can be proud of this one.
Free Monthly Newsletter
Subscribe to our free monthly newsletter.
Thank you for subscribing.
Something went wrong.