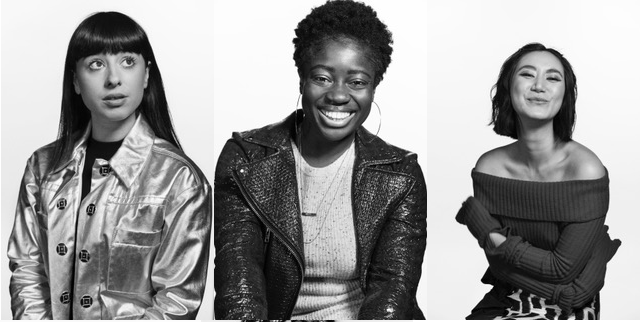 Teatum Jones had a show on February 20th presenting us their collection named Global Womanhood.
AW18 is inspired by a collective of 25 unique women who embody the Teatum Jones
spirit – bold, confident, creative and smart – including women such as models Munroe
Bergdorf, Kelly Knox, singer Foxes, editor Sophia Neophitou and activist Caryn Franklin.
By asking these women from different social backgrounds, different ages and different
ethnicities three questions about their most instinctive human emotions, Teatum Jones
have taken us on a journey through their moments of intense joy, sadness and hope.
These intimate and sometimes raw conversations have been recorded in a film which was premiered throughout the AW18 catwalk show.
"The AW18 collection is presented in three chapters based on these three instinctive emotions. The unity of these shared emotions is tied together in a series of floral and geometric prints and jacquards that sit within a colour palette representing each of the emotive themes"
Intense joy manifests in a palette of explosive red and burgundy tones, passionate pinks and crisp cornflour blue. Neon pink florals are flocked onto vibrant red organza in pleated asymmetric hemlines and gathered sleeves. Fluid two-tone super wide pantsuits sit alongside two-tone chunky British knits and voluminous magenta silk satins.
Intense sadness reveals itself in a palette of deep midnight navy, intense royal blue and
fresh winter ivory. An almost black-navy is woven as textural fil-coupe and panelled with
pleated silk satins. Oversized graphic florals are flocked to tonal navy organzas in pleated skirts, dresses and over-dyed silk satins. Draped tops are layered beneath signature large-scale geometric jacquards woven with chunky woollen yarns.
Hope is brought together in a simple fresh palette of white, ivory and cream. Injected with bright mustard, soaring reds and a rich bordeaux. Hand-painted florals printed onto jacquard silks are gathered into exaggerated draped sleeves in dresses, tops and reimagined Teatum Jones shirt dresses.
I loved the show it was nice to see the videos and then the garments come out for the catwalk. The music really tied in with the themes of intense joy, intense sadness and hope. The silhouette and fabrics were amazing. There was so much movement in the garments itself but I loved the mixture of garments with different fabrics like the knit top and an organza skirt.