This is our interview with illustrator, Agata Pankowska, you can find our feature on her work here.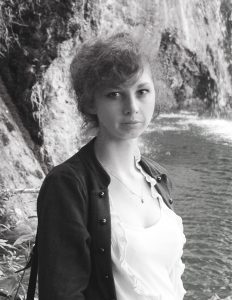 Are you working on anything new and exciting?
I continue to work on my personal projects – mostly children's books. Currently, I have finished a dummy for a camouflage project. Readers need to find an animal hidden on each spread and a challenge for me was to make it realistic enough for a young reader to be able to spot the creature, but also not too realistic because then you might as well use photos instead of drawings.
What makes you do what you do?
There is probably a strong self-indulging aspect to what I do and why. I have heard many stories from incredibly creative, talented people who cut their teeth at jobs that did not make them happy. For various reasons of course – sometimes it was practicality; at other times a circumstance forced them into roles they didn't quite like. But eventually, we all met – at life drawing evening sessions, at uni doing an art degree, or at an art gallery, sketching. And what I take from these stories – each of them valid and inspiring in its own regard, is that if you are a creative person, you will strive to make art. I have lots of ideas and it would be a shame to never share them with others.
Why and how did you become interested illustration?
Art was a part of my life since I picked up crayons one day and doodled my first drawing. But to be more precise, I was probably seventeen or sixteen, back in Warsaw and still at my art school, when I realised illustration was a direction I wanted to take. There is an annual exhibition of diplomas created by students of the Academy of Art I tended to visit. And one time I wandered into their illustration studio. I was enchanted. Everything I did from that point onward was to become an illustrator myself. I finished my school with a final major project in illustration – I made artwork Macbeth and pursued my dream right to the UK where I graduated from both BA Illustration and Animation and MA Children's Book Illustration.

What do you love about creating book covers?
I like to think I have a good eye for design – which is in itself half of a success for a good cover. What distinguishes a decent design from a great one is the ability of an artist to capture this mysterious 'something' about the book a reader may not grasp until they finish reading. An artwork for a front page is something different than simply an illustration you are tempted to put on the cover because it's a climax of a story. So to answer the question, I think I like the fact that cover design is a play with an audience that aims at captivating their attention. You venture to capture the attention of an audience with a mere promise of the story they'll then hope to find inside. That, and the simplicity you are allowed to indulge to achieve a stronger, more striking image. Because on a cover, I believe, less is more.
Who are your biggest influences?
There are so many authors that inspire me constantly, from well-established and old masters to people whose work I see online. When "Lord of the Rings" adaptation made it big in the early 2000s and all the concept art was in a well-deserved spotlight, I remember being absolutely in love with Alan Lee's artwork. There was so much grace in his detailed drawings full of characters and creatures and I can't deny he was a strong influence at a time. But there were others. Many 20th century Polish illustrators are still some of my favourites like Marcin Szancer or Stanisław Rozwadowski.
There is one book worth highlighting here in terms of strong inspirations. I was chasing it for years and only recently managed to get a copy. It's a polish edition of Kalevala, illustrated by Michał Bylina, from 1968. It's extraordinary, from a dust jacket to traditional artwork inside. This book is everything I hope to be doing myself one day.
What's your source of inspiration?
I'm trying not to restrict myself to looking solely at illustrations when I need to feel inspired. Many things I draw can be traced back to some sketch I had done from observation at some point in time. If I want to design a character in a period costume and am struggling, I will do research about fashion from that era. Same goes for pretty much everything else: architecture, landscapes etc. It's important to be exposed to new images almost every day and the more you know both from own experience and second-hand, the richer your art would become.
How do you know a piece is finished?
It's always a matter of a subjective idea of what "a finished artwork" means. For me, it all comes down to two things: (1) what's the artwork for; and (2) what kind of feel I'm trying to create. If I work on a double spread for a book that is intended for a publisher to see, I make sure it looks the part. But I often treat my sketches as finished artwork – they are fresh and carefree in ways that an image I intend to be a "proper" piece can never be. Most people can draw if they put their back to it and spend an enormous amount of hours on one drawing, but it's the sketches that give a better glimpse into one's skill, I think. But as to how I know the image is done? Well, I think it's usually based on a hunch. A realisation that if I keep going, I will overdo it or fail to meet my deadline.
Do you have any creative routines?
I'm cursed with being such a free spirit about things I do. When you are freelancing, however, you really need to keep yourself accountable and that's extremely important. Even if I work from home at the moment, I try to keep it more or less in a way as if I was to go someplace else. I will get dressed, even put on makeup – and all of this to fool my brain into a work mode.
What do you hope to accomplish with your art?
On a selfish level, I think what I'm trying to achieve is finding a way to be an artist in a current economy, but what would bring me actual joy in a broader sense would be a knowledge that somewhere along the way people do love the things I create and get inspired.
Any advice for aspiring artists?
Shortly? Don't give up and keep drawing.
There is no time limit to accomplish your dreams, so don't stress out if you meet a few obstacles on your way. Some people get lucky really quickly and become successful and I wish to everyone such luck, but the truth is some people need to wait a little longer and keep working and improving themselves until they find their way.
I'm catching up with #mermay2018 ! Be ready for some fish ladies and gents. #2 It's a crude little doodle, but I've always liked it pic.twitter.com/P4ZPWA9xNU

— Agata Pankowska (@Agata_illu) May 6, 2018