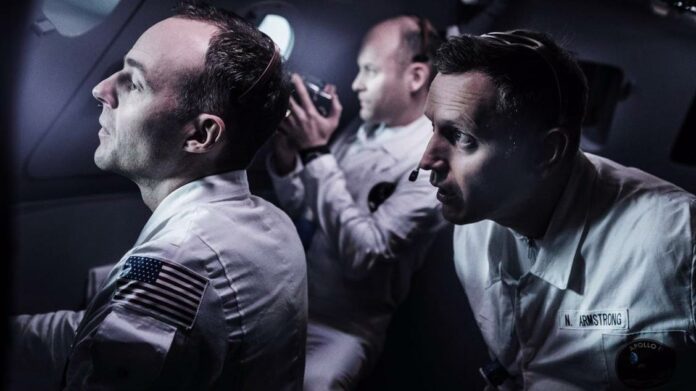 2019 marks the 50th anniversary of the Apollo 11 mission where Neil Armstrong, Buzz Aldrin and Michael Collins accomplished the greatest and most remarkable achievement amongst mankind.
8 Days (the amount of time it took the team to travel to the moon and return to earth) follows the Apollo 11 that was watched by around 600 million people and has been put down as one of the most historical events in history, paving the way for new technology, science research, space travel, human curiosity and the ending of the space race.
Taking hours of the now declassified audio from the cockpit and spaceflight between the
astronauts, BBC and PBS have come together to create a docu-drama centred around the
difficulties, risks and spectacle of the mission. The visual effects and cinematography are
breathtaking; the dramatised reconstruction of the mission is made even more impressive with the risky but flawless lip syncing between the recordings and actors. The film is beautifully paced, creating wonder and tension throughout while really showing the humanity of the mission, we get as close to the astronauts as we ever will.
I had the pleasure of seeing 8 days: To the Moon and Back at The Science Museum on the IMAX screen which was a real treat and truly showed off the phenomenal visual look of the film.
8 Days will be shown on BBC2 HD, Wednesday 10th July at 8 pm.
Subscribe to Our Culture Mag
Join our FREE monthly newsletter.
Thank you for subscribing.
Something went wrong.