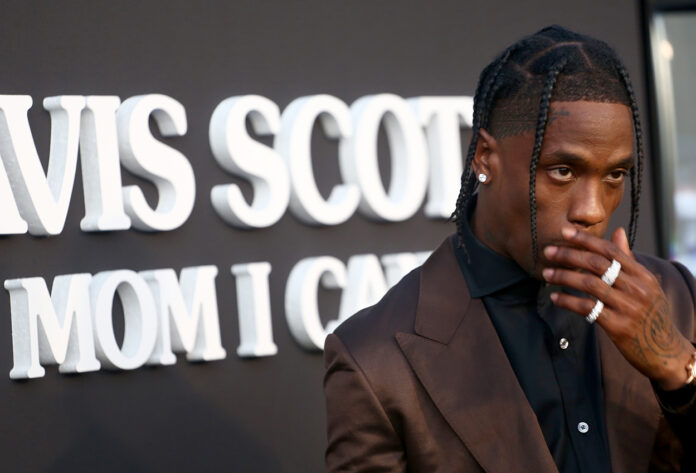 In the past three years, Travis Scott (Jacques Berman Webster II) has rapidly become one of the world's most electrifying icons who is as much recognised for the thrilling hysteria he manifests at his concerts as he is for his Grammy-nominated hits. His exhilarating and, at times, extremely honest Netflix documentary film 'Look Mom I can fly' manages to capture the very same mosh-pitting mania of his concerts as well as providing a small intimate insight into the typically elusive star's private life.
The film opens with Travis, in the green tinge of the night vision camera, strapping into a rollercoaster – a cliché but also appropriate metaphor for the rollercoaster life that he leads and evokes the fluctuating structure that the proceeding documentary follows. As the wind rushes through his braids, the interviewer asks Travis, "What do you think of Astroworld (his acclaimed third album that this film portrays him working on) so far?". To which he responds, in characteristic and consciously arrogant fashion, "it's the greatest album of all time…sometimes you have to take all matters to the extreme".
This is followed by a rapid sequence of crowdsurfing- and moshpitting- shots from his frenzied live shows that I know (having experienced the true overwhelming power of being at a Travis show) only vaguely manage to capture the same hysteria. It's this exact extremity that Travis prides himself in manifesting and rightly so. Despite being charged with disorderly conduct for inciting a "riot" at one of his concerts in northwest Arkansas, which the film depicts, he is managing to create a community-like culture at his concerts that's revitalising them into thrill-seeking experiences – evident in the many flabbergasted teens that are seen eulogising on camera after the said riot-gig about how much fun they had— one teenager on crutches shouts: "I survived, I survived! It's all good!".
The film does contain moments of Travis recognising the dangers of his own manifested mania – for instance: he is depicted halting his show to aid two unconscious teens as they are carefully elevated above the crowd and into the safety of the security section. Though, in truth, these moments of endearing concern for his audience are presented as secondary to the disorderly, adrenaline-charged behaviour that Travis actively stimulates – he even prohibits security from removing individuals who they deem are too raucous.
This manic vs. responsible opposition is also reflected in the structuring of the documentary itself that persistently intertwines his rowdy concerts with intimate sections of his private life and childhood. We see him visiting the room he previously shared with his autistic older brother in Missouri City. Affectionately hugging his father after he performed at the Super Bowl. Supporting his girlfriend,Kylie Jenner, as she has her ultrasound, where he thoughtfully questions whether the doctor is pushing on her stomach too hard. And then his joy as he calls his friend to relate the birth of his daughter, Stormi, who he proudly claims doesn't cry when in his arms. The film also effectively intersperses childhood grainy footage of Travis with similar shots of Stormi, especially a poignant montage of the two both having rides in their respective electric cars on their birthdays, that reiterates their intimate father-daughter relationship and reinforces Travis' tender side.
The documentary also provides a behind-the-scenes look at the making of his critically acclaimed album. We are positioned beside Travis in the backseat of his car as he attempts to assemble what will eventually become 'Butterfly Effect', and we witness the inner workings of the studio as Travis is joined by Tame Impala's Kevin Parker and James Blake to make 'Skeletons' and 'Stop Trying to Be God' respectively. This is followed by small glimpses of Travis' youthful excitement as he anxiously awaits Drake's arrival for his contribution to the hit 'Sicko Mode'.
But, there are two undeniably memorable moments that flawlessly convey the rollercoaster structure that the film's opening eluded to. The first of these finds Travis and his collaborators in a Hawaiian villa, working determinedly on a number of his tracks. Then as they begin to place the bars over a beat they ecstatically realise they have just completed work on what will become the eclectic track 'No Bystanders'. And then the jubilant group join in a wild celebration, dancing around the room and in the pool as the tune blares through the speakers – a completely natural and candid moment that typifies everything that fly-on-the-wall documentary filmmaking should be.
The second moment, that occurs later in the film, couldn't be further from the emotions felt in the villa and fittingly exemplifies the harsh reality of the entertainment industry. Having witnessed Travis work tirelessly on his album and observed his nervous excitement as he performs at the Grammy awards, he is told that "they want you in the [award ceremony's backstage] tunnel" to await the result for the 'Best Rap Album' – "his last shot" according to Travis -having lost the other two he was nominated for. With the stage agonisingly close in the background of the shot, Travis is positioned in the tunnel with the rest of his squad and a camera crew that are carefully situated to capture his reaction. However, Travis loses and is swiftly rushed out of the tunnel as the cameras quickly disperse to make room for other hopeful nominees – a glimpse into the unsympathetic nature of the industry, but its authentic instants like these that provide an immensely emotional backbone to this documentary.
Despite not winning a Grammy award for Astroworld, this film is a visual testament to Travis Scott's diligence, his electrifying capability to capture a crowd and his more elusive, endearing side. Though this documentary is predominately consumed by concert footage and leaves many questions unanswered, it's beautiful roller-coaster-like construction, that efficiently echoes Travis' third album, will leave you wanting to crowd surf, delve further into the star's personal life and will maybe even, at times, give you 'Goosebumps'.