Based in Brighton, UK, October Days is an indie two-piece consisting of musician and producer Ronan Goron and vocalist/lyricist Sasha Danswan. They released their entirely self-produced debut album, October Days, back in April, and while it's just 6 tracks long, its fusion of a distinctly contemporary lo-fi/ dream pop aesthetic with classic psychedelic sounds and coming-of-age lyrics renders it anything but forgettable – it sounds both nostalgically vintage and unmistakably modern. There's a certain amiable warmth to the dreamy synths and hazy melodies of the record combined with the natural intimacy and occasional fogginess of the bedroom pop-style production that not only evokes that not-so-distant time of year that gives the duo its name, but also makes you want to keep coming back to it. Take the playful and memorable 'Ocean Song', for example, which lends itself nicely to the upbeat remix that's the bonus track, or the hushed confessions of 'Take Your Time', or the surprisingly lush, ethereal ambiance of 'Cold Light', the longest and most sonically stunning cut here, transcending the listener to new heights. With their new single, 'Flying Planes', October Days have refined their songwriting and cleaned up the rougher edges of their production without sacrificing any of the intimate melodic charm of their debut, which makes us particularly excited about their next full-length effort.
We caught up with Ronan and Sasha for this edition of our Artist Spotlight segment, where we showcase up-and-coming artists and give them a chance to talk a bit about their music.
When did you start making music together as October Days?
R: I'd already worked out some of the instrumentals and chord progressions in (surprisingly) October of 2018, but the first collaborative part was when Sasha wrote the lyrics for what would eventually become track 1, Ocean Song, in early 2019. Funnily enough, that song was originally called 'The Sailor And His Wife' but I thought that title had too much sea-shanty vibes.
S: Yeah, the first song we made together was Ocean Song, however, separately Ronan had been making music for the majority of his life, and when I was younger, I had an interest in songwriting but never really pursued it until I met Ronan.
What are some of your influences? Are they similar, or do they differ?
S: The lyrics mostly came from my past experiences. For example, Without A Sound is influenced by my own and some of my friend's experiences being in a toxic relationship, mainly focusing on friendships and romantic relationships. Another example is Cold Light, which is dedicated to my step mother who passed away when I was little, and I was recalling the confusion and sense of loss I experienced as a young person.
R: Musically, that album is influenced a lot by the 60s-inspired hypnagogic/psych rock wave of the 2000s, with artists like Ariel Pink and Panda Bear, who emulated that vintage, now quite lo-fi sounding aesthetic. Also bands like The Doors, The Beach Boys and other 60s era rock groups were a big inspiration on this aesthetic, especially the use of reverb, distant-sounding drums and the like. I like think of the album as trying to create modern-sounding pop songs but within the constraints of 60s technology. 
Can you talk a bit about your collaborative writing process? Does the music or the lyrics come first, and how do you combine them?
S: My main role is to create the lyrics and melody within each song. Once Ronan is happy with his instrumental, he will send it to me. From there I create lyrics and a melody that fit with the mood and rhythm of the song. Then I send him a voice recording of the song, which he then mixes into the instrumental.
R: It's a very communicative process that's all about bouncing off each other's ideas, whereby we don't necessarily need to be in the same room (or even country) to create the songs. Also in the new album we're making, there's a song which Sash wrote both the music and lyrics for, so it's not always a totally fixed writing process.
What was it like recording your debut album, October Days? Were there any challenges?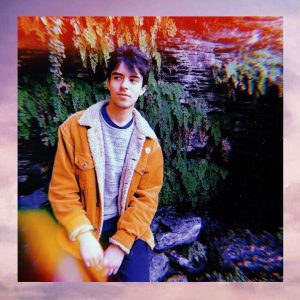 R: Although we were both on our freshman year at university, the process was actually pretty smooth and relaxed. As someone who is a drummer first and foremost, learning guitar was quite a challenge as I was nowhere near proficient enough to play it on every song…but I still did. Also the software was incredibly restrictive, though I quite like that restrictiveness, as it challenges you to be more creative instead of relying on super fancy production tricks. Again, I was sort of viewing the production side as "if they couldn't achieve this effect in the 60s, then I can't do it now".
S: Personally, I don't think I experienced many challenges in creating the album. Prism was probably the most challenging song to write as I struggled to land on a concept to write about for a while. However, in all it was such a fulfilling experience being able to listen to all the songs gradually come to life, and being able to create a meaningful piece of work with Ronan has been a blessing.
Can you tell us a few words about the cover art?
 S: Ronan and our good mate Anelisa Montoya created the album cover for 'October Days' while Ronan created the cover for the single Flying Planes. I enjoy the psychedelic atmosphere the album cover creates, as it blends elements of the songs together but pronounces the dreamy quality that connects all the songs together. The Flying Planes cover art reminds me of the view outside of a window plane, with misty clouds coloured by a sunset – which strongly reflects the tone of the song.
R: For the October Days album, I like the idea that the album begins in an ocean-setting and ends in the sky (hence the song titles) so I wanted some artwork that would reflect both. I initially asked Anelisa to paint some sea/sky imagery which I then edited and cut with various photos of buildings in Brighton (the city we live in) to kind of create a surreal scene of a city submerged underwater – half painted and half real. Also, synthetically, we viewed the music as quite dark so we wanted this scene to be at nighttime with subdued colours.
What would you say your latest single 'Flying Planes' is about?
S: Personally, the song is dedicated to Ronan and my home, Australia. At the time I was writing the lyrics, he had recently bought plane tickets to visit me for the first time in Australia when I moved back there for a few months during the holidays. As such, I wrote the song for Ronan to welcome him to experience my home and share a part of who I am. I also dedicated the song to Australia, as I had not been there for a long time and wanted to express the beauty and grandness of the land I was missing. I used iconic land features to emphasis its uniqueness and my appreciation for it, such as 'follow streams with gold beneath,' is a reference to the natural richness of the land, and 'where plains meet morning rays' references the vastness and grandeur of the sweeping plains of the Australian outback.
Am I right to point out that the production is a little bit cleaner compared to October Days? Were you trying out a slightly different sonic direction with this one?
R: We definitely wanted to get a crisper, more pleasing sound for Flying Planes, as it was just too simple and lovely a song to give the same treatment as the album. To get that airy, floaty effect like you're amongst the clouds, I didn't want to overcrowd the music or make the guitar super scratchy, so yeah it's certainly a different sonic vibe from the album. The new songs we've been working on kind of follow on from that!
S: As Ronan and I continue developing our musical skills there has been an obvious improvement in the quality of the songs. As we are currently creating our next album, I have already noticed my writing have become more experimental and creative in the themes and actual lyrics in the songs. I can't even begin to describe how intricate, imaginative and thoughtful Ronan's instrumentals have become.
What's next for October Days?
S: I am actually incredibly excited for our next album, which should be released next year (maybe even a single before then.) We have really pushed ourselves with this project and have created interesting and offbeat music that I am very excited to share with everyone!
R: Yeah, we recorded eight new songs  – it's quite different from the first one – definitely more of a homage to indie rock and guitar music, but we think it's some of the best stuff we've done and also can't wait to share it.