Underage debuted their Spring Summer 2020 Collection presentation at Icetank during London Fashion Weekend.
The presentation was surreal and moving. The whole atmosphere felt intimate with a large crowd in the middle, making space for the models that walked around the room and standing on pedestals. The background had a lovely contrast of colour within the outfits and a fun outlook on the contemporary styles with some unconventional fabrics.
SS20 is a suitably eclectic take on the power of the cult, a theme which serves as the heart of the collection. Drawing inspiration from the likes of The Kindred of the Kibbo Kift and the Freemasons, designer Ying Shen explored the work of Maisie Cousins, Richard Prince and Claude Cahun for this season. Distinctly feminine in style, SS20 imagines a society that champions the female figure, with dark undertones so familiar with the UNDERAGE aesthetic.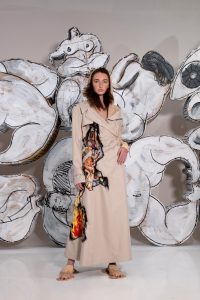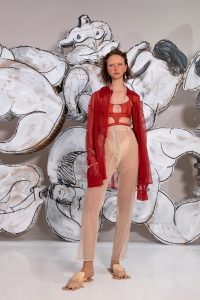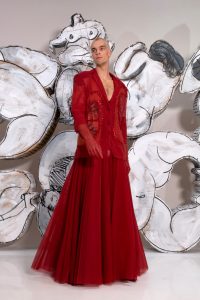 Since their SS18 debut, UNDERAGE has become known for their rich, distinctive prints that define each collection. SS20 is heavily detailed with motifs inspired by religious iconography and cult imagery and takes the form of digital, screen prints and ornate embroidery. Striking, suggestive and painterly, SS20's prints are a contemporary reimagining of society emblems over the decades, detailing deconstructed silhouettes cut from sheer tulle and languid silk. This truly sensual undertone highlights the natural beauty of the female form and celebrates the power of sexuality. Muted shades of blush rose, and beige sits amongst a large pastel palette, complete with bright colour accents and sheer, draped layers.