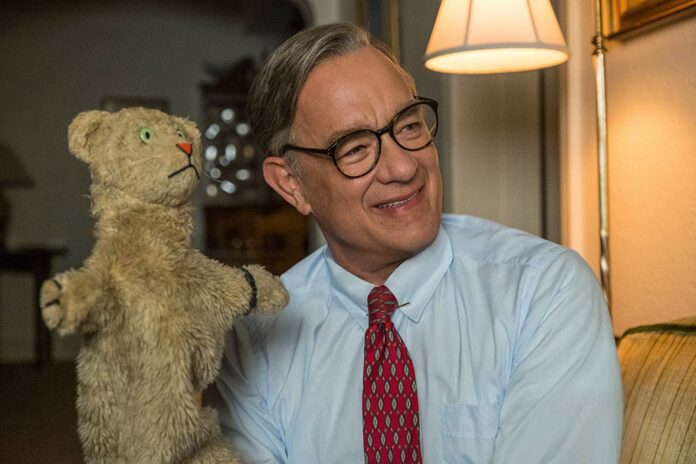 Anyone anticipating a tell-all biopic crammed with revealing secrets, lewd scandals and profound behind-the-scenes insights will be left bitterly disappointed by A Beautiful Day in the Neighborhood. Much like Morgan Neville's delightful 2018 documentary Won't You Be My Neighbor?, this film unearths and explores very little about Fred "Mister" Rogers' raunchy private life. This is simply because there isn't one. As last year's documentary identified, the beloved American children's entertainer is as genuine, kind and good-hearted as his on-screen persona attests. In fact, there is no distinction nor façade –an idea briefly explored in the film when Rogers (Tom Hanks) appears utterly perplexed when a journalist (Matthew Rhys) questions his integrity and where the discrepancy between his public character and the "actual" Fred Rogers lies. A film about an impeccable figure who personifies goodness and carries no scandalous baggage nor skeletons in the closet should, in theory, make for a nauseating biopic that's overwhelmed with cheap sentiment.
Thankfully, this assumption couldn't be more wrong–because, technically, this isn't really a biopic at all. Contrary to its promotional material, director Marielle Heller and screenwriters Micah Fitzerman-Blue and Noah Harpster position Rogers (and consequently also Hanks) as the supporting role – an ethereal figure who relates the parable and provides guidance rather than the true protagonist. This premise is succinctly established from the outset, when Hanks, as Rogers did repeatedly, enters through the treasured Mister Rogers television front door, changes his jacket into his signature red cardigan, and sings a pitch-perfect rendition of the theme song, Won't You by My Neighbour? As he addresses the audience, Rogers, through the means of a picture board, introduces us to the actual protagonist of the story, the cynical Lloyd Vogel (Rhys). Loosely based on the American journalist Tom Junod, who was assigned to create a profile of Rogers for Esquire in the 1990s, Vogel considers the task a step-down from his typically investigative features: "The hokey kid show guy?" he responds incredulously.
But, little does he know that he needs Rogers more than he ever could've appreciated. Vogel is a new father, whose relationship with his wife (Susan Kelechi Watson) and the new child is becoming increasingly hindered by his committed work ethic and his resentment for his father (Chris Cooper). Exemplified, when his father arrives at Lloyd's sister's wedding and childhood issues (including his father's decision to abandon Lloyd's mother on her deathbed) re-emerge through a heated argument that results in blows.
On the surface, these familial issues could easily collapse into overbearing melodrama and the premise of a lacklustre, cynical journalist being saved by a magical, saint-like figure could certainly result in cliché. But, Heller's incredible mastery means the film never feels formulaic. Having previously directed the wonderful comedy-drama The Diary of a Teenage Girl and last year's melancholic true-crime black comedy Can You Ever Forgive Me, this film fortifies why Heller is a relentless force to be a reckoned with.
Using an episode of the television series as the framework for the narrative is a particularly nuanced approach that could've easily fallen through. But just as Heller subtly manages to portray 90s America, she also ensures the children's television-show aesthetic never feels particularly twee or domineering. Montages and location shots are frequently depicted through miniature toys – toy planes fly through the sky and tiny model taxis cross the colourful sugar-coated cityscape.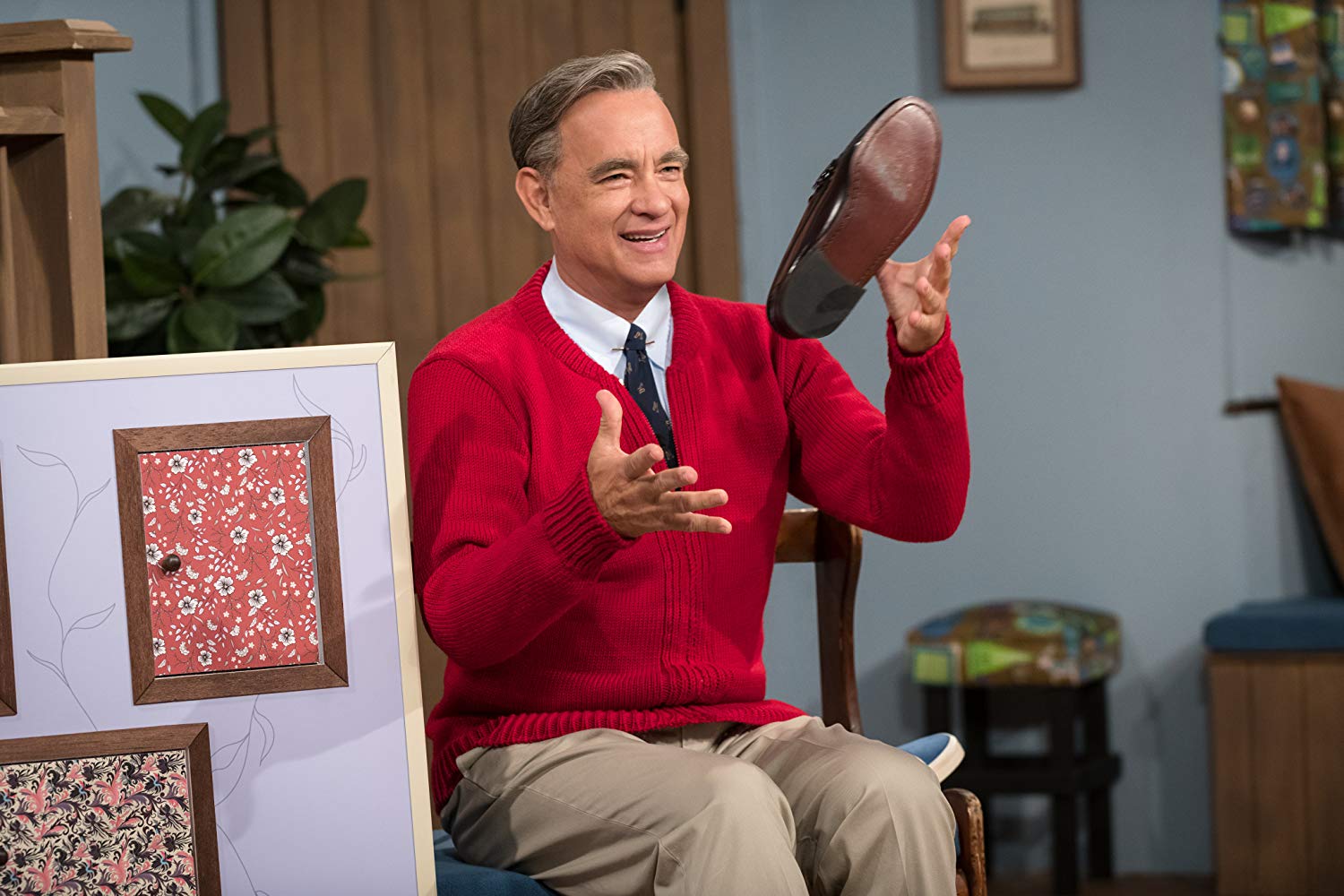 Just as the aesthetic seeks to actively replicate the television series, the film attempts to address the audience in a similar manner to the entertainer's own tender and personal approach. After a hallucinatory scene where Lloyd imagines he's an Old Rabbit puppet and part of Mister Rogers' Neighbourhood, Lloyd and Rogers have lunch together in a Chinese restaurant. Rogers calmly invites Lloyd to think about the people in his life who have "loved you into existence". Heller positions Rogers in the centre of the frame, looking directly into the lens and it becomes apparent we, the audience, are being addressed. Then, silence. The ability to eradicate passivity without delving into cliché or banality involves skill and Heller, particularly in this scene, appears to be its master.
The casting of Tom Hanks felt almost too fitting – America's male sweetheart playing another beloved national treasure – in a similar way to how he was cast as Walt Disney in John Lee Hancock's Saving Mr. Banks. But in this film, Hanks doesn't delve into imitation nor allow his impossibly good-guy persona to carry his performance, as much as he did in Hancock's period drama film. As well as achieving Rogers' half-smile, his manner of speaking, his particular stance, Hanks provides a nuanced and subtle performance that explores the philosophy and psychology behind the man. He manages to make the public persona of Mister Rogers and the actual Fred Rogers intertwine and convince audiences that they are indeed one and the same – a complex task that he achieves wonderfully. Rhys' performance as the cynic is equally marvellous and balances Hanks' perfectly without feeling overly contrived or establishing the pair as completely binary.
A Beautiful Day in the Neighborhood could've easily fallen into the trap of being a saccharine, cliché-filled biopic filled with cheap sentiment and a conventional portrayal of a national "hero" (even if he refused to admit it). But Marielle Heller's uniquely, creative voice combined with an award-worthy performance by Hanks results in a wholesome film that defies tradition and provides an idiosyncratic and pure-hearted tribute to Fred Rogers. It reminds us to love thy neighbour and it's beautiful.