A magical-realist genre mash-up that draws on influences from The Most Dangerous Game (1932) to Wolf Creek (2005) via I Spit on Your Grave (1978) and The Company of Wolves (1984), French/Belgian co-production Hunted is the new horror feature from Persepolis (2007) co-director Vincent Paronnaud, which pits a new-age Red Riding Hood against a personification of the Big Bad Wolf in an isolated forest. Our Culture reviews the film here for its selection as part of the 2020 Fantasia International Film Festival.
Éve (Lucie Debay) is a French woman working in Belgium. One night, tired of climbing the walls in her hotel room, she decides to hit a bar – where she is promptly harassed by a sleazy pick-up artist. She is rescued by a charismatic American stranger (Arieh Warthalter) who claims to be on a mission to cheer up his brother (Ciaran O'Brien). But her saviour is not who he says he is. He is, in fact, a deeply misogynistic rapist and murderer, and his 'brother' is his reluctant accomplice. They intend to make Éve their next victim, but a twist of fate allows her to escape their clutches and run deep into dense woodland. As she tries to make her way back to civilisation, a hunt begins. But there is something very old swirling about the trees, and nature itself will play a part in the tale.
While its basic premise is recognisable from the decades of revenge cinema that have preceded it, Hunted immediately declares an intention to do something innovative by introducing fantasy elements into a narrative otherwise told with a horrific realism. Its cold open sees a mother (Simone Milsdochter) sitting around a campfire with her son (Vladimir Ryelandt) in the woods where much of the film's action will later take place. There, she regales him with a folktale set during the Crusades, in which a young woman is saved from a group of predatory men by a valiant pack of wolves. This story informs everything that we will see throughout the rest of the film, as Paronnaud comes to blur very real patriarchal violence with fairytale logic.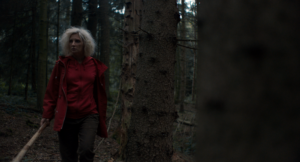 Driven by admirable central performances from Debay and Warthalter, Hunted is a celebration of one woman's refusal to become a victim that slowly transitions from a grounded nightmare into a fantastical tale of bloody retribution. Its fantasy elements are subtly on display even early in the narrative; for example, the film is littered with beautiful, otherworldly images of prey animals (including wild hogs, deer, rabbits and birds), while costume designer Catherine Marchand has dressed Éve in a red-hooded coat, her aggressor in shades of lupine grey and black. But it is only in the film's final act that Joachim Phillipe's cinematography truly takes a turn into the realms of fantasy and the woods seem to come alive.
To acknowledge the film's fairytale leanings is not to say, of course, that it shies away from horror. While never exploitative, it contains some utterly brutal violence and is at times deeply uncomfortable to watch. Hunted's villain is perhaps the most despicable killer since Wolf Creek's Mick Taylor: a personification of toxic masculinity who manipulates, abuses and tortures men, women and – as subtly suggested only by the sound of a baby crying on a video recording of one of his crimes – even children. He is the embodiment of patriarchy, a man who believes that everyone and anyone is his to use and abuse. Warthalter's performance is at once captivating and repelling in a way that recalls Benoît Poelvoorde's chilling turn in what remains Belgium's most infamous horror film: Man Bites Dog (1992).
Hunted is, essentially, a story that has been told many times before, in which a woman – tortured and brutalised – exacts her righteous vengeance against heartless tormentors. In fact, it was only a few years ago that another French horror film, Revenge (2017), took the festival circuit by storm as it reclaimed the rape and revenge formula at the beginning of the Me Too era. What makes Hunted equally special, though, is that it recognises that this is a tale as old as time. As it weaves elements of folktales and fairy stories into its own narrative, it astutely reflects on the fact that women are not just suffering patriarchal abuse in our current moment but have been continually suffering it for many hundreds, even thousands of years – and asks just when, exactly, that suffering will stop.