Kevin Morby has announced a new album titled Sundowner, out October 16 via Dead Oceans. He also previewed the album with the first single, 'Campfire', featuring his partner Katie Crutchfield, aka Waxahatchee. It comes with a video directed by Johnny Eastlund and Dylan Isbell and featuring Crutchfield. Check it out below, and scroll down for the album's cover artwork and tracklist.
Morby started working on Sundowner all the way back in 2017, when he moved back to his hometown of Kansas City, KS, and still finishing up his last album, 2019's Oh My God. Using mostly a four-track Tascam 424 recorder, he recorded the album at Texas' Sonic Ranch with producer Brad Cook. "I wrote the entire album wearing headphones, hunched over the 424, letting my voice and guitar pass through the machine, getting lost in the warmth of the tape as if another version of myself was living on the inside, singing back at me," Morby said in a press release. "I was mesmerized by the magic of the four track not only as a recording device, but also an instrument, and considered it my songwriting partner throughout the whole process."
Speaking of the album's title, he explained: "It is a depiction of isolation. Of the past. Of an uncertain future. Of provisions. Of an omen. Of a dead deer. Of an icon. Of a Los Angeles themed hotel in rural Kansas. Of billowing campfires, a mermaid and a highway lined in rabbit fur. It is a depiction of the nervous feeling that comes with the sky's proud announcement that another day will be soon coming to a close as the pink light recedes and the street lamps and house lights suddenly click on."
Along with the album announcement, Morby has also announced a "virtual tour" on the Noon Chorus platform, where he'll perform each of his albums the whole way through via livestream. The performances will run every Thursday from September 10 to October 15, where he'll play Sundowner.
Sundowner Cover Artwork: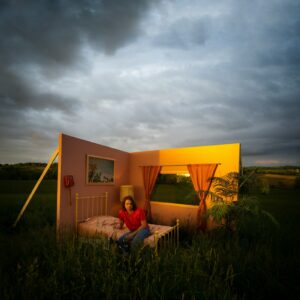 Sundowner Tracklist:
1. Valley
2. Brother, Sister
3. Sundowner
4. Campfire
5. Wander
6. Don't Underestimate Midwest American Sun
7. A Night at the Little Los Angeles
8. Jamie
9. Velvet Highway
10. Provisions