Following his holiday-themed EP Hark! last year, Andrew Bird has now announced a full-length Christmas LP, also titled Hark!. The 13-track album will include six songs from the EP, as well as seven additional tracks. Among these are covers of John Prine' 'Souvenirs' and John Cale's 'Andalucia', the latter of which you can hear below.
Another one of the tracks is an original called 'Christmas in April'. Of the song, Bird wrote in a statement: "There's an original tune I wrote in April during the most disorienting phase of the pandemic, when I couldn't help but wonder where we'll be when the holidays come, if we could be together or not. I've been writing a lot of songs inspired by this uninspiring predicament. Let's hope they all become obsolete as soon as possible."
Speaking of the release as a whole, he added: "Let's not talk about the dubious motives that might lead an artist to make a holiday record. It's a complicated relationship many of us have with the holidays and the requisite music we hear. So let's admit that it's a utilitarian thing. The music is just one contributing factor to our communal or solitary joy and melancholy. As a musician, it's an excuse to take a break from writing the next record and indulge in an unapologetically nostalgic exercise."
Hark! comes out digitally on October 30, with a vinyl edition set to arrive on November 13 via Loma Vista. Check out the cover art and tracklist below.
On October 10, the singer-songwriter will perform his 2005 album Andrew Bird & the Mysterious Production of Eggs live on Seated.
Hark! Cover Artwork: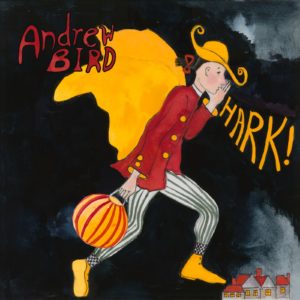 Hark! Tracklist:
1. Andalucia
2. Alabaster
3. Greenwine
4. Christmas in April
5. Souvenirs
6. Oh Holy Night
7. Mille Cherubini in Coro
8. Night's Falling
9. Glad
10. Christmas Is Coming
11. White Christmas
12. Skating
13. Auld Lang Syne