Arlo Parks has announced her debut album: Collapsed in Sunbeams arrives January 29, 2021 via Transgressive. Along with the announcement, the 20-year-old British singer-songwriter has shared a new song called 'Green Eyes'. Featuring vocals from Clairo, Parks describes it as a "a song about self-discovery, self-acceptance and adolescence. It is supposed to uplift and comfort those going through hard times." Check it out below, and scroll down for the album's cover artwork and tracklist.
In a statement about the album, Parks explained: "My album is a series of vignettes and intimate portraits surrounding my adolescence and the people that shaped it. It is rooted in storytelling and nostalgia — I want it to feel both universal and hyper specific."
Earlier this year, Arlo Parks shared the singles 'Eugene', 'Black Dog', and 'Hurt'. She recently joined Phoebe Bridgers for a cover of Radiohead's 'Fake Plastic Trees' and covered Billie Eilish's 'my future' for BBC Radio 1.
Read our Artist Spotlight Q&A with Arlo Parks.
Collapsed in Sunbeams Cover Artwork: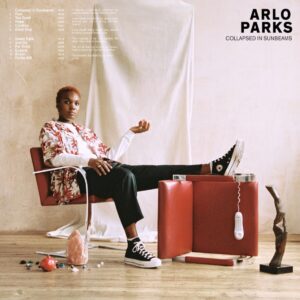 Collapsed in Sunbeams Tracklist:
1. Collapsed In Sunbeams
2. Hurt
3. Too Good
4. Hope
5. Caroline
6. Black Dog
7. Green Eyes
8. Just Go
9. For Violet
10. Eugene
11. Bluish
12. Portra 400