King Gizzard and the Lizard Wizard have announced a new album called K.G. It arrives on November 20 via Caroline. Along with the announcement, the psych rock outfit have also unveiled a new single titled 'Automation'. Check it out below, and scroll down for the album's cover artwork and tracklist.
The band have also confirmed a forthcoming live album, Live In San Francisco '16. According to the group's label, Flightless, there will be three limited edition vinyl records – one white, one yellow and one blue – which are being produced by an eco-friendly factory with "sustainable bio-mass driven technology and green power." Pre-orders for the album will be available from midnight October 22 AEDT (2pm October 21 BST).
The gestation of K.G. dates back to their acclaimed 2017 album Flying Macrotonal Banana. "FMB was one of the purest and most enjoyable recording experiences we've had, and the ideas just kept coming," band leader and multi-instrumentalist Stu Mackenzie explained. He added: "It's almost like an album that normal people make. Almost…"
K.G. will mark the band's their first studio release in over a year, following 2019's Infest the Rats Nest. Earlier this year, King Gizzard shared the singles 'Straws In The Wind', 'Honey', and 'Some Of Us'. Back in August, drummer/manager Eric Moore announced his departure from the band.
K.G. Cover Artwork: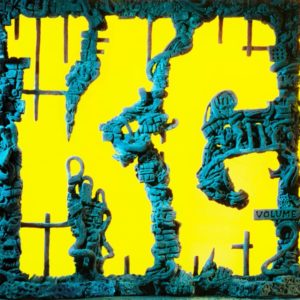 K.G. Tracklist:
K.G.L.W
Automation
Minimum Brain Size
Straws In The Wind
Some Of Us
Ontology
Intrasport
Oddlife
Honey
The Hungry Wolf Of Fate