Much as I like Mystery Science Theater 3000, an unfortunate fate awaits the films featured, forever destined to be thought of as cheap and bad. Many of the films Mike, Joel, Jonah and the bots have lambasted are indeed less than stellar (Manos the Hands of Fate may not be a contender for preservation in the Library of Congress), but a great deal more are actually very good. The Amazing Colossal Man (1957), The Black Scorpion (1957), Earth vs The Spider (1958), Reptilicus (1961), and Godzilla vs. Megalon (1973) all range from good to superb, though their MST3K inclusion may have stunted public interest beyond "let's watch a bad movie!" Such is the case for 1958's The Trollenberg Terror, which featured on MST3K's first season under its American release title, The Crawling Eye.
On the Trollenberg mountain in Austria, mysteries abound: hikers have disappeared or turned up decapitated; the locals fear something on the mountain; and a strange, immovable cloud remains on the south side. Forrest Tucker plays Alan Brooks, a UN scientist on holiday; he decides to pay a visit to his friend and colleague, Professor Crevett (Warren Mitchell). As it turns out, Crevett's encountered something on the mountain that Alan's seen before in the Andes. That unmoving cloud is radioactive, and there may be something inside it. Whatever it is, it's making its way down the Trollenberg, killing anyone in its way…
This is a great creature feature, with a fabulous script by none other than Jimmy Sangster. If The Trollenberg Terror feels akin to a Quatermass film, it's no coincidence. The film was adapted from a six-part television serial that was made in the same vein as Nigel Kneale's BBC science-fiction series. Hammer Films made a name for themselves with their graphic adaptations of Kneale's teleplays in The Quatermass Xperiment (1955) and Quatermass 2 (1957). A third Quatermass film between them had been proposed, though Kneale refused the use of the Bernard Quatermass character, and it eventually became the unconnected (but equally horrific) X The Unknown (1956), with a script by Jimmy Sangster.
Sangster would go on to write many of Hammer's finest horrors, including The Curse of Frankenstein (1957), The Revenge of Frankenstein (1958), and The Mummy (1959). From his work on X The Unknown, Sangster was a good choice for The Trollenberg Terror's adaptation.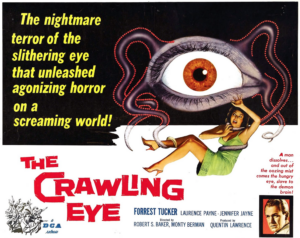 The film's first act may be its best. Sangster's script teases out context and exposition, making for very engaging entertainment. Of particular note is a fabulously taut conversation between Alan and Professor Crevett. Through very believable dialogue, we learn about Alan's recent history and how it connects with Crevett's, as well as some startling facts about the cloud. That we learn all this just as two men hike their way up the mountain – toward the cloud – is a wonderful bit of dramatic editing.
That said, several plot points are raised with no resolutions. Alan carries a gun with him, which admittedly helps him later on, but it's unclear why he brought it on holiday. It's also explained that the creatures inside the cloud have a psychic connection with a handful of people, but why is unknown. These questions might be answered in the full six-part serial, and they could simply be casualties of the adaptation process. In any case, the pace is so tight and the story so packed that you never really have time to get hung up about it.
While other critics haven't been kind to the film's special effects, I'll break the mould and say I quite like them. A few shots are a little less than convincing, but most of the time you're so taken aback by the sheer otherworldliness of the monsters that the quality of their execution isn't a big consideration. In turn, I think that says something about their effectiveness. They're bizarre creatures that you can't take your eyes off of, and the grunting sounds that accompany them are deliciously creepy. The special effects were crafted by Les Bowie, who not only worked on Hammer's Quatermass, Frankenstein, and Dracula series, but won a posthumous Oscar for his matte painting and composite work on 1978's Superman. Bowie passed away in January 1979.
The Trollenberg Terror is an underrated SF chiller. Despite a handful of unanswered questions, Sangster's script is carefully constructed and very engaging. By the time we finally see the film's monsters in the climax, it comes after a satisfying build-up of edge-of-your-seat tension. Despite its inclusion on MST3K, The Trollenberg Terror is worth a closer look.