For a cinephile in the saturated world of podcasting, there is still one programme which towers above the rest: Karina Longworth's You Must Remember This.
Since 2014, Longworth's podcast has delved deep into Hollywood's past, exploring the sordid secrets, tragic tales, and baffling beginnings of filmdom's classic icons. Each season focuses on a new story or theme, from Dead Blondes detailing the difficult past of some of film's biggest bombshells, to Bela and Boris, an affectionate look at the dovetailing lives of Lugosi and Karloff.
A new season is upon us, and Our Culture reached out to Karina to let us in on what's ahead.
Your podcast, You Must Remember This, has looked at some of the most interesting and obscure details in the lives of film stars. Of the many series you've produced, which has been your favourite?
Polly Platt.  It was the hardest to make, but the most rewarding, because I was truly unearthing a forgotten piece of Hollywood history.
How do you decide which stories or people to focus on? 
I read a lot of books and I try to predict the future. I have to try to predict what story will I still be excited to talk about after I've been researching it for nine months.
Bela and Boris is my personal favourite series you've done. Lugosi's life is so often boiled down to two points: the high of Dracula and the perceived low of Ed Wood. Hearing the unabridged, nuanced history was enlightening. How does it feel to shed light on lives and stories so often diminished to single (and often scandalised) sentences? 
That's the whole reason to do the podcast. Most Hollywood stories are truly mostly forgotten.
Tell us about the latest You Must Remember This series. 
It's called Gossip Girls. It's about the two most famous Hollywood gossip columnists of the 20th century: Louella Parsons and Hedda Hopper. It also deals with a few of their competitors, including Sheila Graham and Mike Connolly — the closeted gay man who pioneered the Hollywood Reporter's Rambling Reporter column and used it to implicitly speak to a queer audience — and ultimately traces the gossip industry all the way from the 19-teens to the present day, through the eras of Rona Barrett and Entertainment Tonight, to TMZ and Deux Moi.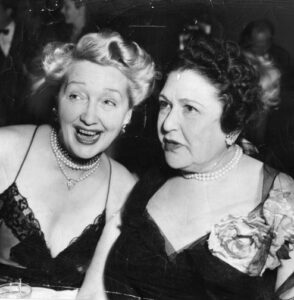 Without spoiling too much, if there's one thing you'd like people to take away from your latest series, what would it be?
Initially, I wanted to research Parsons and Hopper because even with all my expertise, I still had a tendency to mix the two of them up. I think there's a prevalent, general idea that they were both these grandmotherly tyrants who terrorized Hollywood sometime between the 1930s and '50s, but their individual identities and roles are rarely discussed. What I discovered was that they had very distinct identities from one another. But also, though they were both people who achieved enormous success in a field in which there hadn't been a lot of women before them — and both did it as single mothers at a time when that was not considered to be a super cool thing to be — both Louella and Hedda also put themselves at the service of powerful men, and this defines each of their careers as much as anything. And both participated in a kind of bait and switch, through which they promised to tell their readers the absolute truth and show them what was really going on "behind the scenes" — but in fact they were obscuring the truth and manipulating their coverage more than they were revealing anything true or real. In this, they were playing into a larger shell game involving Hollywood, the larger cultural and political forces which sought to regulate Hollywood, and the newspapers they worked for — which, as the season reveals, were just as biased, self-interested and personality-driven in their hard news coverage as Louella and Hedda were in their trifling columns about celebrities.
Finally, I've been enjoying several films from Columbia's Noir catalogue recently (thanks, Indicator!) – I just adore The Garment Jungle. What've you been watching recently? 
I'm so busy right now that in my precious free time, I'm not really interested in watching anything but baseball.
Thank you so much for joining us, Karina!
The latest season of You Must Remember This is available on all major podcasting platforms.