Sufjan Stevens and Angelo De Augustine have announced a new collaborative album. It's called A Beginner's Mind and it comes out September 24 via Asthmatic Kitty Records. Two songs from the LP, 'Reach Out' and 'Olympus', are out today, along with a video for 'Reach Out'. You can find both songs below, and scroll down for the album's cover artwork (by Ghanaian artist Daniel Anum Jasper) and tracklist.
According to a press release, the album's 14 tracks are "(loosely) based on (mostly) popular films—highbrow, lowbrow and everything in between." A Beginner's Mind began to take shape when the two musicians and Asthmatic Kitty labelmates decamped to a friend's house in upstate New York for a month-long songwriting sabbatical. They soon found their songs reflecting the films they had been watching, resulting in "less a 'cinematic exegesis' and more a 'rambling philosophical inquiry'."
"Plot-points, scene summaries and leading characters are often displaced by esoteric interpolations that ask the bigger question: what does it mean to be human in a broken world?" the press release adds.
This year, Sufjan Stevens followed up his 2020 record The Ascension with the five-volume instrumental album Convocations. Angelo De Augustine's most recent album was 2019's Tomb.
A Beginner's Mind Cover Artwork: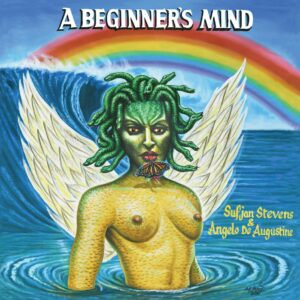 A Beginner's Mind Tracklist:
1. Reach Out
2. Lady Macbeth In Chains
3. Back To Oz
4. The Pillar Of Souls
5. You Give Death A Bad Name
6. Beginner's Mind
7. Olympus
8. Murder And Crime
9. (This Is) The Thing
10. It's Your Own Body And Mind
11. Lost In The World
12. Fictional California
13. Cimmerian Shade
14. Lacrimae