Lala Lala, the project of Chicago-based musician Lillie West, has announced her next album: I Want The Door To Open is out October 8 via Hardly Art. Today's announcement comes with the release of the new single 'DIVER', which arrives with an accompanying video co-directed by Brielle Brilliant and West. Check it out and find the record's cover artwork and tracklist below.
"I want total freedom, total possibility, total acceptance. I want to fall in love with the rock," West said about the theme 'DIVER' in a press release, referring to the myth of Sisyphus. "I think it's easy to feel like we keep making the same mistakes over and over again, that we're Sisyphus. The key is falling in love with the labor of walking up the mountain."
West co-produced the follow-up to 2018's The Lamb with Yoni Wolf of Why? The LP features contributions from Chicago-based musician Nnamdi Ogbonnaya, poet Kara Jackson, OHMME, Adam Schatz of Landlady, Sen Morimoto, Christian Lee Hutson, Kaina Castillo, Meg Duffy, Will Miller, Gia Margaret, Josiah Wolf, and former tourmate Ben Gibbard.
I Want The Door To Open Cover Artwork: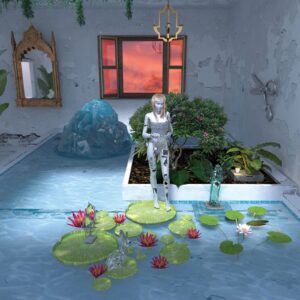 I Want The Door To Open Tracklist:
1. Lava
2. Color of the Pool
3. DIVER
4. Photo Photo feat. Ohmme
5. Prove it
6. Castle Life
7. Bliss Now!
8. Straight & Narrow [feat. Kara Jackson]
9. Beautiful Directions
10. Plates feat. Ben Gibbard
11. Utopia Planet