Sturgill Simpson has announced a new concept record called The Ballad of Dood and Juanita. The LP is out digitally and on CD on August 20, with vinyl to follow on December 3. It marks the singer-songwriter's third album in twelve months following last year's Cuttin' Grass albums. Check out the album artwork and tracklist below.
According to a press release, Simpson wrote and recorded the new album, which he calls "a simple tale of either redemption or revenge," in less than a week. "I just wanted to write a story—not a collection of songs that tell a story, but an actual story, front to back," Simpson said, further describing the album as a "rollercoaster ride through all the styles of traditional country and bluegrass and mountain music that I love, including gospel and a cappella."
Simpson is currently on location filming the upcoming Martin Scorsese movie Killers of the Flower Moon.
The Ballad of Dood and Juanita Cover Artwork: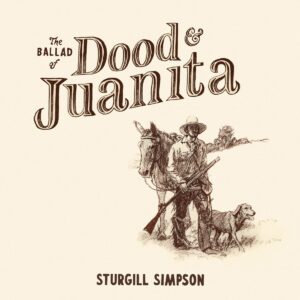 The Ballad of Dood and Juanita Tracklist:
1. Prologue
2. Ol' Dood (part I)
3. One In the Saddle, One On the Ground
4. Shamrock
5. Played Out
6. Sam
7. Juanita [feat. Willie Nelson]
8. Go In Peace
9. Epilogue
10.Ol' Dood (part II)