For the discerning genre fan looking for the next One Cut of the Dead (2017), look no further than Beyond the Infinite Two Minutes. Written by Makoto Ueda and directed by Junta Yamaguchi, this gleefully funny, supremely silly and surprisingly profound mash-up of science fiction, comedy and romance – shot on an iPhone and ostensibly presented in a single take – is the latest Japanese festival favourite destined to become a cult classic. Our Culture reviews the film here as part of its selection from the 2021 Fantasia International Film Festival.
Kato (Kazunori Tosa) is a café owner who is stuck in something of a rut. By day he runs his business; by night he lives alone in an apartment just a few flights of stairs from his workplace. He can't even pluck up the courage to ask out Megumi (Aki Asakura), who works in the barbershop next door. In the blink of an eye, though, Kato's painfully mundane life takes a turn for the absurd, as a voice begins to speak to him from his computer. And it's his voice – from the future. He soon comes to realise that the screens he uses to monitor his business after hours have developed extraordinary and inexplicable powers: the one in his apartment can see two minutes into the future, while the one in his café can see two minutes into the past. Together with his employee Aya (Riko Fujitani) and their overly excitable friends Komiya (Gôta Ishida), Tanabe (Masashi Suwa), and Ozawa (Yoshifumi Sakai), Kato begins to explore the possibilities of knowing what has been and what is yet to come.
It's a high concept, then, and it must be said from the outset that the physics of Beyond the Infinite Two Minutes are mind-boggling. It's difficult to get a clear sense of exactly how its timeline works on a first viewing, and in this regard it is just as intellectually challenging as, say, Primer (2004), Timecrimes (2007), Coherence (2013) or Tenet (2020). What sets the film apart, though, is an enormous sense of fun; Ueda's sharp dialogue and five pitch-perfect comedic performances ensure that it never takes itself too seriously. The film's science fiction elements are present primarily to generate laughs – and while the "Time TV" is certainly a fascinating puzzle, trying too hard to solve it could easily detract from an experience both hilarious and heartwarming.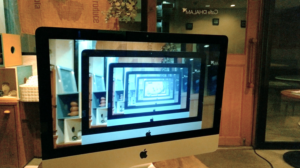 Moreover, there is a sense throughout Beyond the Infinite Two Minutes that the film does not want its temporal mysteries to be easily unravelled. Its overarching theme – communicated through its farcical comedy, which deftly illustrates that being able to see a few minutes behind or ahead is not actually very useful – is that we can become far too concerned with the passage of time. We learn that Kato has long been obsessed with what lies ahead of him ("I hate the future," he tells Megumi), while Megumi is much too fixated on events in her past. Ultimately, what the film communicates is that we should endeavour to live in the present – the here and now – and enjoy what we have while we have it; a profound message for a film that features bad guys brandishing plastic ray guns. And one, of course, that is common to many time travel stories – though rarely has it been communicated in such a playfully eccentric way.
Like its predecessor One Cut of the Dead, Beyond the Infinite Two Minutes is a technical marvel akin to a cinematic magic trick. Much of the film (aside from a short sequence preceding its title card), is presented in one continuous shot – and, in a 70 minute film, that one shot is a staggering 64 minutes long. Whether or not those 64 minutes were genuinely captured in a single take doesn't really matter; the effect is utterly flawless. That alone is an achievement as baffling as the film's central conceit, but even more jaw-dropping is the seamless insertion of past and future events on the two screens that constantly drive the plot forward at an incredible pace. The attention to detail required to make the movie work is head-spinning.
All of this becomes so much more impressive with the knowledge that Beyond the Infinite Two Minutes is a micro-budget picture, shot on an iPhone during a pandemic. In short, it is the rare film that lends some credence to a tired cliché of the filmmaker Q&A: that in the age of the camera phone, anyone can make a movie. Under the direction of Yamaguchi (who also served as cinematographer), this joyful genre mash-up is thus a testament to what can be achieved through sheer creativity, will and ambition.