NYC-based collective MICHELLE have announced their new album, AFTER DINNER WE TALK DREAMS, which comes out January 28 via Transgressive. Today's announcement comes with the release of the lead single 'SYNCOPATE'. Check out its music video below and scroll down for the album's cover artwork and tracklist.
"The song at its core is about desire," MICHELLE said of the new track in a statement. "Communicating your desire can feel vulnerable, so we wanted to have some fun with that and show our funky and seductive side. It really feels like we're hitting the street for the first time by putting this song out into the world."
'SYNCOPATE' follows a string of singles by MICHELLE, including 'SUNRISE' (and its rework featuring Arlo Parks), 'UNBOUND', and 'FYO'. Their debut LP, HEATWAVE, arrived in 2018.
AFTER DINNER WE TALK DREAMS Cover Artwork: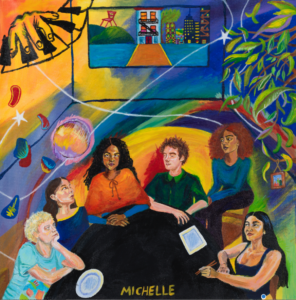 AFTER DINNER WE TALK DREAMS Tracklist:
MESS U MADE
EXPIRATION DATE
POSE
SYNCOPATE
NO SIGNAL
TALKING TO MYSELF
50/50
LOOKING GLASS
END OF THE WORLD
FIRE ESCAPE
HAZARDS
LAYLA IN THE ROCKET
SPACED OUT, PHASED OUT
MY FRIENDS