Cate Le Bon has announced a new album called Pompeii, which is set to arrive on February 4 via Mexican Summer. Today's announcement comes with the release of the new song 'Running Away' and its Casey Raymond-directed video. Check it out below and scroll down for the LP's cover artwork and tracklist.
Le Bon wrote and recorded the new LP mostly on bass in an "uninterrupted vacuum" alongside co-producer Samur Khouja in Cardiff, with exits sealed, granting herself "permission to annihilate identity."
"Pompeii was written and recorded in a quagmire of unease. Solo. In a time warp. In a house I had a life in 15 years ago," Le Bon elaborated in a press statement. "I grappled with existence, resignation and faith. I felt culpable for the mess but it smacked hard of the collective guilt imposed by religion and original sin."
Le Bon continued: "The subtitle is: You will be forever connected to everything. Which, depending on the time of day, is as comforting as it is terrifying. The sense of finality has always been here. It seems strangely hopeful. Someone is playing with the focus lens. The world is on fire but the bins must go out on a Tuesday night. Political dissonance meets beauty regimes. I put a groove behind it for something to hold on to. The grief is in the saxophones."
Cate Le Bon's fifth solo full-length, Reward, came out in 2019.
Pompeii Cover Artwork: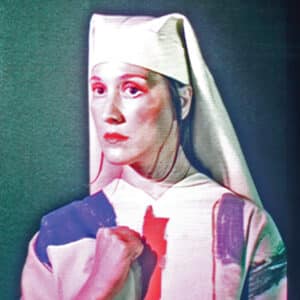 Pompeii Tracklist:
1. Dirt on the Bed
2. Moderation
3. French Boys
4. Pompeii
5. Harbour
6. Running Away
7. Cry Me Old Trouble
8. Remembering Me
9. Wheel