Rave Ami – the Pittsburgh indie rock trio of guitarist/vocalist Joe Praksti, bassist Pat O'Toole, and drummer/vocalist Evan Meindl – have announced a new LP. It's called Let It Be and it's set for release on November 19. The record includes the previously shared track 'Saints on Silver' as well as the newly unveiled single 'The Hexer', which arrives with an accompanying video directed by Ryan Hizer. Check it out below and scroll down for the album's cover art and tracklist.
Praksti had this to say about the new single in a statement:
The discourse of understanding constitutes itself on translating pure experience through a universally agreed-upon dialect of symbols and associations that are themselves predicated on preexisting knowledge generated by past experience and the discourse therein. 
The individual finds themselves adrift in a sea of information and archetypes. It flows forever, within and without. Think about Jung's Collective Unconscious, spoken from the perspective of Cartesian Doubt. Then throw out the baby with the bathwater. You're a worm with a human face – let it be.
Rave Ami dropped their sophomore full-length, All Great Bands Break Up, in 2018.
Let It Be Cover Artwork: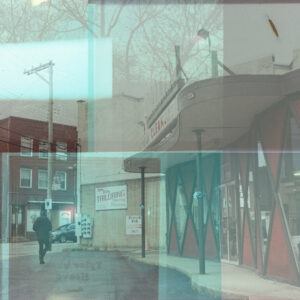 Let It Be Tracklist:
1. Nausea ad Nauseam
2. Secrets Of The Universe
3. Saints On Silver
4. Graduation Day
5. Glass Piece
6. Mighty Maltz Waltz.
7. The Hexer
8. Light Switch
9. (Tell Me When You) Find It