SASAMI has announced a new album called Squeeze, which will be released on February 25 via Domino. Along with the announcement, SASAMI has shared the dual lead singles 'The Greatest' and 'Skin A Rat', both of which come with accompanying visuals: 'The Greatest' video is directed by Jennifer Juniper Stratford, while the 'Skin A Rat' visualizer was created by Andrew Thomas Huang, who also designed the album's cover artwork. Check them out below.
"This song is about how often the greatest, heaviest feelings we have for someone are in the absence of the realization or reciprocation of that love," Sasami Ashworth said of 'The Greatest' in a statement. "Like power born out of a black hole. All fantasy."
Both singles were recorded in Ty Segall's studio in Topanga, CA and Log Mansion in Mt. Washington. 'Skin a Rat' features Dirk Verbeuren of Megadeth on drums and gang vocals from Vagabon's Laetitia Tamko and actress and comedian Patti Harrison. According to Ashworth, the song is "a soundtrack to cathartic release of anger and frustration with oppressive systems and humans. Very nu-metal influenced. Wrote and demoed the whole song on my iPad with midi drums and hired an epic drummer to perform it live to tape."
Squeeze will follow SASAMI's 2019 self-titled debut and includes her previously shared rendition of the Daniel Johnston song 'Sorry Entertainer'. Revisit our Artist Spotlight Q&A with SASAMI.
Squeeze Cover Artwork: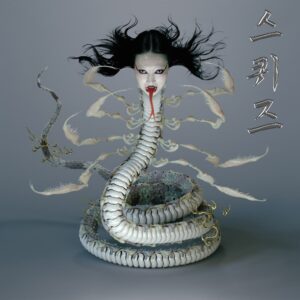 Squeeze Tracklist:
1. Skin A Rat
2. The Greatest
3. Say It
4. Call Me Home
5. Need It To Work
6. Tried To Understand
7. Make It Right
8. Sorry Entertainer
9. Squeeze [feat. No Home]
10. Feminine Water Turmoil
11. Not A Love Song