Mattiel, the Atlanta-based group comprised up of Mattiel Brown and Jonah Swilley, have announced their third album, Georgia Gothic. It's out March 18, 2022 via Heavenly Recordings. Check out a video for the new single 'Jeff Goldblum' below, and scroll down for the record's cover art and tracklist.
"Well, my crush on Jeff Goldblum is very real," Mattiel remarked in a press release. "He inspired the words – but this is more of a dream where a Jeff look-a-like meets me in a bathroom. Nothing beats an 80's Jeff Goldblum. Incredible looks and charm. If anything, I hope if he somehow hears the song, he loves it as much as we do."
George Gothic will follow the band's 2019 album Satis Factory.
Georgia Gothic Cover Artwork: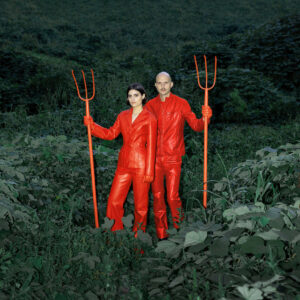 Georgia Gothic Tracklist: 
1. Jeff Goldblum
2. On the Run
3. Lighthouse
4. Wheels Fall Off
5. Subterranean Shut In Blues
6. Blood In The Yolk
7. Cultural Criminal
8. You Can Have It All
9. Other Plans
10. Boomerang
11. How It Ends