Jenny Hval has announced a new album: Classic Objects, the Norwegian artist's first for 4AD, is slated for release on March 11. To accompany the announcement, Hval has shared a video for the new single 'Year of Love', which was self-directed alongside Jenny Berger Myhre and Annie Bielski. Check it out below and scroll down for the LP's cover art and tracklist.
'Year of Love' was inspired by a proposal Hval witnessed as she was performing in one of her shows. "For me, this experience was very troubling," she said in a statement. "It confronted me with the fact that I am also married. What does that detail from my private life say about me as an artist? 'Year of Love' asks, who am I as an artist? Do my private actions betray my work and voice?"
Commenting on the video, Hval, Myhre, and Bielski stated: "A sense of loss and joy intertwines in a world of disconnected rooms. The artist inhabits these rooms. She is frozen in time, space, and mid-vowel. She is aware of her immediate surroundings. She is aware that there is more beyond what she can see. A version of her exists in a compressed, compromised, and objectified state. She is sitting in a room, in a house, in a neighbourhood, in the art industry."
Classic Objects, the follow-up to 2019's The Practice of Love, will include Hval's November single 'Jupiter' – one of our Best New Songs. Last year, she collaborated with Håvard Volden for their first record as Lost Girls, Menneskekollektivet. 
Classic Objects Cover Artwork: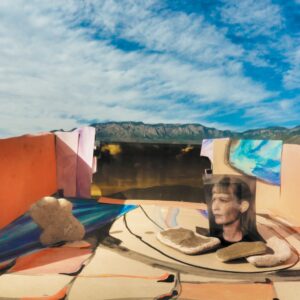 Classic Objects Tracklist:
1. Year of Love
2. American Coffee
3. Classic Objects
4. Cemetery of Splendour
5. Year of Sky
6. Jupiter
7. Freedom
8. The Revolution Will Not Be Owned