PUP – the Toronto punk band comprised of Stefan Babcock, Nestor Chumak, Zack Mykula, and Steve Sladkowski – have announced their fourth LP. THE UNRAVELING OF PUPTHEBAND is out April 1 and includes the previously released single 'Waiting', as well as a new track called 'Robot Writes A Love Song'. Check out its Whitey McConnaughy-directed music video below, and scroll down for the album's cover art (by Jordan Speer) and tracklist.
The new album was recorded and mixed over the course of five weeks in the summer of 2021 in producer Peter Katis' Connecticut mansion. "As the weeks passed, we seemed less and less rational, objective, and sane," Babcock said in press materials. "You can hear the band start to fall off the cliff, and because of that, I think this record is our truest and most genuine to date. There is nothing more PUP than a slow and inevitable descent into self-destruction."
He added: "There's only so many times you can write a song about how much you hate yourself before you write a song about how fucking good you are at hating yourself. I wanted to write about the horrible state of the world, but through a very specific and personal lens. It's a lot of me trying to articulate my own coping with existential dread, hopelessness, and what I've called 'Grim Reaping'—which is to me, the idea that we are all reaping what we sow, and right now we're sowing some pretty fucked up shit."
THE UNRAVELING OF PUPTHEBAND features contributions from Sarah Tudzin of illuminati hotties, NOBRO's McCaughey, Casper Skulls' Melanie St-Pierre, and Erik Paulson from Remo Drive. It will follow PUP's 2019 full-length Morbid Stuff as well as the 2020 EP This Place Sucks Ass.
THE UNRAVELING OF PUPTHEBAND Cover Artwork: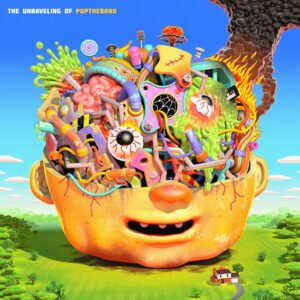 THE UNRAVELING OF PUPTHEBAND Tracklist:
1. Four Chords
2. Totally Fine
3. Robot Writes A Love Song
4. Matilda
5. Relentless
6. Four Chords Pt. II: Five Chords
7. Waiting
8. Habits
9. Cutting Off The Corners
10. Grim Reaping
11. Four Chords Pt. III: Diminishing Returns
12. PUPTHEBAND Inc. Is Filing For Bankruptcy