Korean-Canadian songwriter and producer Luna Li has announced her debut album with the single 'Silver Into Rain', featuring beabadoobee. Duality comes out March 4 via In Real Life. Check out 'Silver Into Rain' below.
"'Silver Into Rain' is about longing to become a better self. In the song I'm lamenting all of the things about myself that I feel are holding me back in life, and how sometimes it can feel like everything you touch turns bad, turns to rain," Li explained in a statement. "Bea came in with the most angelic voice and perfect sentiment for the song, and brought it to a really brilliant place."
"The songs never quite have only one feeling," she added of the album, which also features contributions from Jay Som and Dreamer Isioma. "Each song had some element of light and dark — where there's happiness there's still uncertainty; where there's anxiety there's also beauty; and where there's tension there's freedom."
Last year, Luna Li released her jams EP.
Duality Cover Artwork: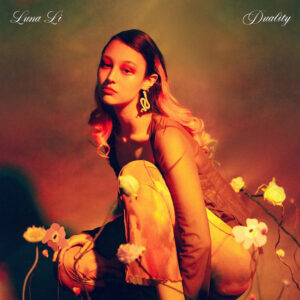 Duality Tracklist:
1. Cherry Pit
2. Boring Again [feat. Jay Som]
3. Afterglow
4. Trying
5. Flower (In Full Bloom) [feat. Dreamer Isioma]
6. Alone But Not Lonely
7. Silver Into Rain [feat. beabadoobee]
8. What You're Thinking
9. Star Stuff
10. Magic
11. Misery Moon
12. Space
13. Lonely/Lovely