Rolling Blackouts Coastal Fever have announced their next album: Endless Rooms is due out May 6 via Sub Pop. The announcement arrives with the release of a new single called  'The Way It Shatters', which is accompanied by a Nick Mckk-directed video. Check it out and find the album's cover art and tracklist below.
"It's about how ending up in your particular situation in life is the result of absolute randomness," the band said of the new song in a statement. "If you happen to be born into wealthy Australia or happen to be born into a war zone in Syria. That's just the way it shatters. So it's when this good luck is mistaken for a sense of pride in one's self or their country they become confused and deluded about what's important. It's when those on the other side of the luck scale are completely othered and considered not worthy."
The group's five members exchanged ideas for Endless Rooms online during Australia's lockdowns. Between lockdowns, the band were able to decamp to a mud-brick house the Russo family built in the bush in the '70s (featured on the album cover) to record the LP, which they self-produced alongside collaborator Matt Duffy. The record was informed by the acoustics of the space and includes field recordings of rain, fire, birds, and wind. "It's almost an anti-concept album," the band explained. "The Endless Rooms of the title reflects our love of creating worlds in our songs. We treat each of them as a bare room to be built up with infinite possibilities."
Rolling Blackouts Coastal Fever put out their sophomore album, Sideways to New Italy, in 2020.
Endless Rooms Cover Artwork: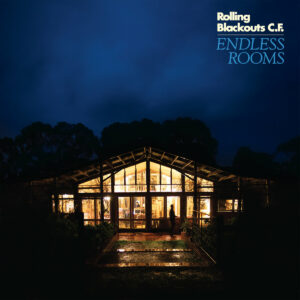 Endless Rooms Tracklist:
1. Pearl Like You
2. Tidal River
3. The Way It Shatters
4. Caught Low
5. My Echo
6. Dive Deep
7. Open Up Your Window
8. Blue Eye Lake
9. Saw You At The Eastern Beach
10. Vanishing Dots
11. Endless Rooms
12. Bounce Off The Bottom