Tomberlin has announced her new album: i don't know who needs to hear this… is out April 29 via Saddle Creek. It features the early single 'idkwntht', which we named our Song of the Week, as well the newly unveiled 'happy accident'. The song features Cass McCombs on guitar, Felix Walworth on drums, and the album's co-producer Philip Weinrob on bass. Check it out below and scroll down for the LP's cover artwork and tracklist.
"'happy accident' is a song about relational obscurity," Sarah Beth Tomberlin explained in a statement. "Trying to sort out who you are or who you were to someone. Is this relationship romantic or is it just sex? Do you want to spend time with me or are you just bored? Do I make my own decisions that are good for me or are my decisions predominantly based on what I think you might want or need? I was kind of walking through moments in previous relationships in my life. I wanna know why someone wants to get to know me. Do you want to know me or just your idea of me? Do I want to know you or just my idea of you?"
i don't know who needs to hear this… will follow Tomberlin's 2018 full-length debut At Weddings as well as 2020's Projections EP. "My first record, I made it without knowing I was making it," she said. "I was writing songs to process stuff from my personal life as it was happening, and then suddenly everything was happening really fast. Record label, tour, press, all this momentum and a lot of advice about my career, which, you know, I never even expected to have. So I think when I started to write the second record, I felt a lot of pressure to make it sound collected and profound, almost like a book—chapters, a narrative, everything nicely wrapped up."
In addition to the album news, Tomberlin has announced a solo tour of the UK and EU, kicking off April 20 in France. Find those dates below, too.
i don't know who needs to hear this… Cover Artwork: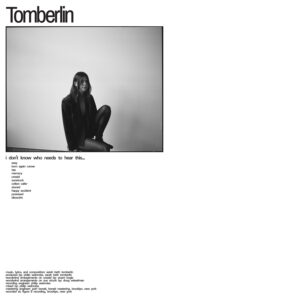 i don't know who needs to hear this… Tracklist:
1. easy
2. born again runner
3. tap
4. memory
5. unsaid
6. sunstruck
7. collect caller
8. stoned
9. happy accident
10. possessed
11. idkwntht
Tomberlin 2022 EU and UK Tour Dates:
Apr 20 – Paris – L'Archipel
Apr 21 – Utrecht – Kromme Haring
Apr 22 – Dortmund – Kino Im U
Apr 25 – Berlin – Prachtwerk
Apr 26 – Leipzig – Horns Erben
Apr 27 – Brussels – Botanique
Apr 28 – Margate – Caves
Apr 29 – Nottingham – Rough Trade
May 1 – Leeds – Brudenell Social Club
May 2 – Manchester – Yes (Basement)
May 3 – Edinburgh – Voodoo Rooms
May 4 – Birmingham – Cuban Embassy
May 5 – London – St Matthias Church
May 6 – Cardiff – Clwb For Bach
May 7 – Brighton – Kmedia Studio
May 8 – Dublin – The Grand Social