Porridge Radio have announced they have a new album on the way. The follow-up to 2020's Every Bad is called Waterslide, Diving Board, Ladder to the Sky, and it arrives on May 20 via Secretly Canadian. Lead single 'Back to the Radio' is out today alongside a music video directed by Dana's sister Ella Margolin. Watch and listen below.
"'Back To The Radio' feels like a huge introductory hello or a big ceremonial goodbye," Dana Margolin explained in a statement. "I wrote it at the end of 2019 when we were gearing up for the release of Every Bad and I felt like a lot of things were coming that I wasn't sure I knew how to handle. The song grew out of a feeling of intense loneliness and being unprepared for what everybody was promising me was about to happen – and a strong desire to escape without knowing what I wanted to escape to. To me there's a huge feeling of catharsis in this song, of letting go and letting it sweep you away."
Waterslide, Diving Board, Ladder to the Sky was co-produced by Tom Carmichael, Margolin, and drummer Sam Yardley. "I kept saying that I wanted everything to be 'stadium-epic' – like Coldplay," Margolin said.
Waterslide, Diving Board, Ladder to the Sky Cover Artwork: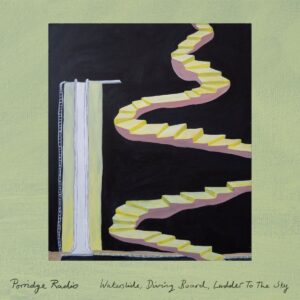 Waterslide, Diving Board, Ladder to the Sky Tracklist:
1. Back to the Radio
2. Trying
3. Birthday Party
4. End of Last Year
5. Rotten
6. U Can Be Happy If U Want To
7. Flowers
8. Jealousy
9. I Hope She's OK 2
10. Splintered
11. The Rip
12. Waterslide, Diving Board, Ladder to the Sky