Asheville indie rock band Wednesday have announced a new covers album titled Mowing the Leaves Instead of Piling 'em Up. The 9-track collection is out March 11 via Orindal Records and includes their versions of songs by Vic Chesnutt, Smashing Pumpkins, Roger Miller, Drive-By Truckers, and more. Check out a video for the lead cover 'She's Actin' Single (I'm Drinkin' Doubles)', originally recorded by Gary Stewart, below.
"Wednesday owes so much to our musical influences," vocalist Karly Hartzman said in a statement about the project. "The music we love is a big part of what brought us together. My bandmates Margo and Xandy both had infamous Asheville house show venues, Jake was in like a billion different bands which often played in their muggy basements and Alan was usually the one who brought the PA. Our immersion in music predated us trying to make songs together ourselves."
"Our common interests in noisy '90s guitars, good lyrics, and country music was quickly what permeated into our voice as a band," she continued. "Most decisions in our songs are made by an amalgamation of all five of our inputs, which happens pretty naturally because of this thread of influences that ties us together. So when we got an opportunity for some recording time with Alli Rogers at Betty's studio in Durham, NC we decided to record covers, and hopefully repay in part the huge debt we are in to the artists who contributed so much to the music we write ourselves."
Wednesday released their latest album, Twin Plagues, last year. Read our Artist Spotlight interview with Wednesday.
Mowing the Leaves Instead of Piling 'em Up Cover Artwork: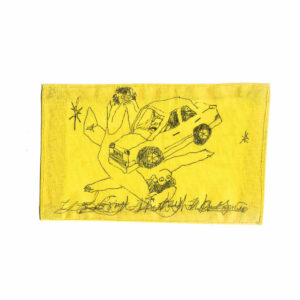 Mowing the Leaves Instead of Piling 'em Up Tracklist:
1. She's Actin' Single (I'm Drinkin Double) [Gary Stewart]
2. I Am the Cosmos [Chris Bell]
3. Lock, Stock and Teardrops [Roger Miller]
4. Women Without Whiskey [Drive-By Truckers]
5. Had 2 Try [Hotline TNT]
6. Sacrifice (for Love) [Greg Sage]
7. Rabbit Box [Vic Chesnutt]
8. Time Baby II [Medicine]
9. Perfect [Smashing Pumpkins]