Boston indie rock band Mint Green have announced their debut LP: All Girls Go to Heaven comes out June 3 via Pure Noise Records. New single 'Trying' arrives with a video directed by Haoyan of America. Check it out below.
"This song explores the narrative of someone who is holding on to what is left of their failed relationship while the other person has already seemingly moved on," vocalist Ronnica explained in a statement. "Its tone is upbeat and bouncy in the verses. The lyrics pair the mundane with the fantastic. They are both giddy and frivolous. Determined, yet futile."
All Girls Go to Heaven will include the previously shared single 'Body Language'. Mint Green have released two EPs, 2016's Growth and 2018's Headspace.
All Girls Go to Heaven Cover Artwork: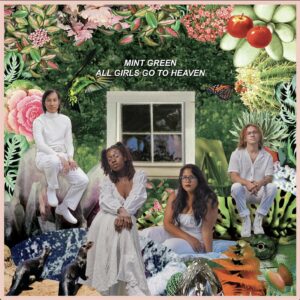 All Girls Go to Heaven Tracklist:
1. Against the Grain
2. Body Language
3. What I'm Feeling
4. Make Me Stay
5. Trying
6. Ready
7. Golden
8. Whatever Happens
9. (We) Should Have Spoken
10. Ringtone