Sigrid has announced the details of her second album: How to Let Go is set to arrive on May 6. To accompany the announcement, the Norwegian pop artist has shared a video for her recent single 'It Gets Dark', which was created with 'Mirror' director Femke Huurdeman and CANADA. and sees Sigrid escaping into space. Check it out below, and scroll down for the album's cover art and tracklist.
Commenting on the song and video, Sigrid said in a statement:
I believe you need to feel the lows in life to feel the highs, and you have to know what sucks to then properly appreciate the good stuff. It Gets Dark is an ode to that. I honestly don't think I've ever been as excited about a single release before. It's the first song that was written for my upcoming album, and I remember the joy and relief when we figured out the soundscape. I was like FINALLY I know how this second record is gonna sound! The music video is the weirdest I've gone visually and I absolutely love it. We're playing with planets, UFO's and rooms all made by hand, as well as perspective, time and space. It's the second time working with the brilliant Femke Huurdeman and Canada, and I'd literally do anything for that team; hence me being reborn out of a planet egg, flying in space with wind blowing in my face, punching a planet and wearing the Saturn ring on my head. It's as ridiculously fun as it was making it: enjoy!
According to a press release, the follow-up to 2019's Sucker Punch was written at a time when Sigrid was contemplating her life in Norway and her life outside of Norway. "They're two different things," she said. "The chill girl who loves to ski and hike and cook versus the other part of me that's like 'let's go out', or let's play massive shows, go on stage and not be scared of anything. I used to be so shy as a kid but then when I'm on stage at Glastonbury for example I love losing myself in it."
How to Let Go Cover Artwork: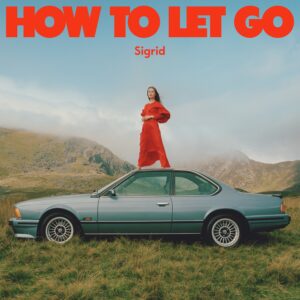 How to Let Go Tracklist:
1. It Gets Dark
2. Burning Bridges
3. Risk Of Getting Hurt
4. Thank Me Later
5. Mirror
6. Last To Know
7. Dancer
8. A Driver Saved My Night
9. Mistake Like You
10. Bad life
11. Grow
12. High Note