Rosie Carney has announced her second album, i wanna feel happy. It comes out May 27 via Color Study. Today, the London-based singer-songwriter has shared a new single called 'dad', alongside a video featuring Outlander star John Bell. Watch and listen below.
"I wanted to create the narrative of a young person journeying back to their authentic self after being trapped and lost within this loud world," Carney said of 'dad' in a statement. "It was emotional watching John relate to this and bring it to life. He choreographed the dance sequence himself and there wasn't an ounce of his mind and spirit that he held back. It's become a real testimony to our friendship."
i wanna feel happy follows Carney's 2019 debut Bare as well as her full-length cover of Radiohead's The Bends, which was released in 2020. "Once I started playing around with The Bends songs, I realised I was pretty capable of taking my music in whichever direction I wanted to," Carney explained. "I've always been a fan of shoegaze, lofi, indie and classic rock music, I just didn't think it was possible to combine those sounds with my own music. Besides Radiohead I listened to a lot of Big Thief, FKA Twigs, Foglake, Slow Dive, David Bowie to name a few while I was making my demos for this album."
Revisit our Artist Spotlight interview with Rosie Carney.
i wanna feel happy Cover Artwork: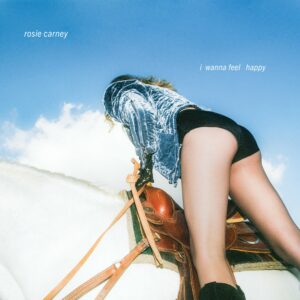 i wanna feel happy Tracklist:
1. i hate sundays
2. break the ground
3. dad
4. chihiro
5. ceiling
6. tidal wave
7. sugar
8. time waits for no waiting room
9. send me home
10. i wanna feel happy
11. blame it on the sun