Kikagaku Moyo have revealed the details of their final album. Before going on an indefinite hiatus, the Japanese psych-rock band will drop Kumoyo Island on May 6 via their own Guruguru Brain label. Today's announcement comes with the release of the lead single 'Cardboard Pile', alongside an accompanying video created by Katsushika Shusshin. Check it out below, and find the band's upcoming tour dates here.
"After much discussion between the five of us at the end of last year, we have decided to go on an indefinite hiatus after 2022," Kikagaku Moyo recently wrote on Instagram, adding: "We have come to the conclusion that because we have truly achieved our core mission as a band, we would love to end this project on the highest note possible. Since first starting as a music collective on the streets of Tokyo in 2012, we never, ever imagined being able to play all over the world for our amazing audiences. It is all because of you that this was ever possible…and to this we are eternally grateful."
Kikagaku Moyo recorded their fifth studio album at Tsubame Studios in Asakusabashi, Tokyo, where they cut their earliest material. The group's last album, Masana Temples, arrived in 2018.
Kumoyo Island Cover Artwork: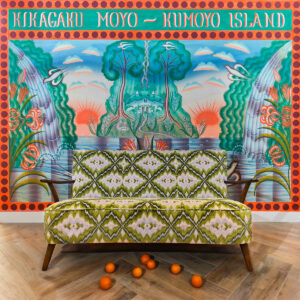 Kumoyo Island Tracklist:
1. Monaka
2. Dancing Blue
3. Effe
4. Meu Mar
5. Cardboard Pile
6. Gomugomu
7. Daydream Soda
8. Field of Tiger Lillies
9. Yayoi Iyayoi
10. Nap Song
11. Maison Silk Road