Hot Chip have announced their next album: Freakout/Release will be out on August 19 via Domino. Today's announcement comes with the release of the new single 'Down', alongside a music video directed by Douglas Hart and Steve Macke. Check it out and find the LP's cover art and tracklist below.
Hot Chip wrote and recorded the follow-up to 2019's A Bath Full of Ecstasy in their Relax & Enjoy studio in East London, a space that Al Doyle put together before and during the first year of the pandemic. "By the time we were able to be back together, we were turning on a tap and having a lot of ideas being poured out quite quickly," Alexis Taylor said in a press release. Doyle added: "Everything's on all the time, and it's very easy to capture what we're doing."
Commenting on the album's themes, Joe Goddard said: "We were living through a period where it was very easy to feel like people were losing control of their lives in different ways. There's a darkness that runs through a lot of those tracks."
Since releasing A Bath Full of Ecstasy, Hot Chip produced the latest album from Ibibio Sound Machine, Electricity.
Freakout/Release Cover Artwork: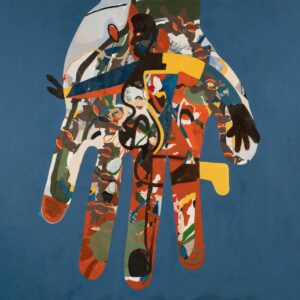 Freakout/Release Tracklist: 
1. Down
2. Eleanor
3. Freakout/Release
4. Broken
5. Not Alone
6. Hard To Be Funky feat. Lou Hayter
7. Time
8. Miss The Bliss
9. The Evil That Men Do feat. Cadence Weapon
10. Guilty
11. Out Of My Depth