If I had to pick one day out of the two weekends of this year's Primavera festival, it probably be the second Friday of the festival. Not just because Lorde was set to headline – though that was certainly a big factor for a lot of people who booked tickets early – but because some of the most iconic artists in rock, pop, and hip-hop would be taking the stage. Even with the incredible range of acts I'd gotten to see over the last ten days, and despite the unfortunate cancellation of Clairo's performance, my excitement still hadn't diminished. It was enough to carry me through the day, which ended up more than meeting my expectations. In chronological order, here were six highlights from Primavera Sound 2022 Friday, June 10.
---
The Echoes of Hurray for the Riff Raff's LIFE ON EARTH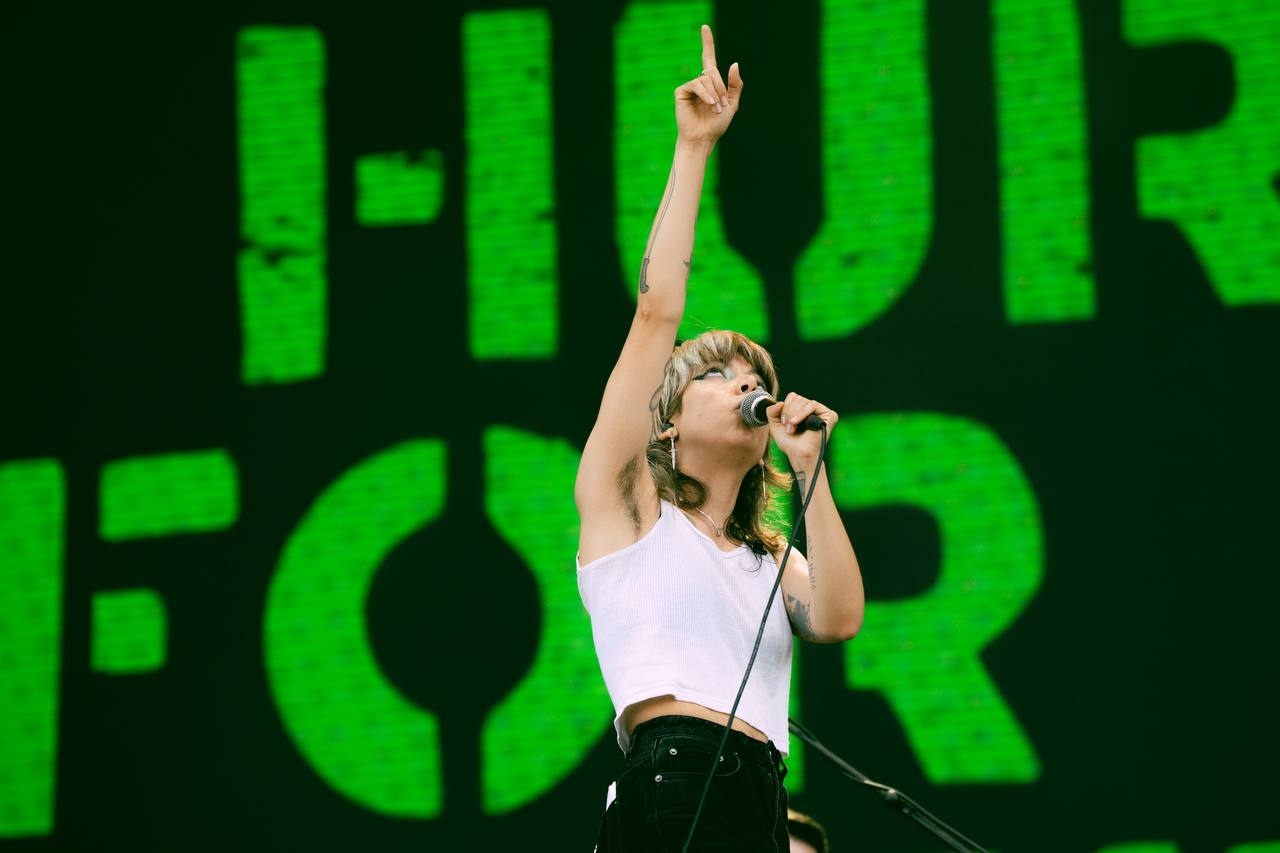 When I arrived at Parc del Fòrum on Friday evening, the sun was still burning bright, and the music of Hurray for the Riff Raff echoed all the way through to the entrance. Alynda Segarra and their band had just started their set – announced at the last minute following the cancellation of Clairo's performance – and hearing LIFE ON EARTH highlights 'POINTED AT THE SUN' and 'ARROWS' as I made my to the Pull & Bear stage was even more memorable than being close to the front. Segarra gave a stirring, beautiful performance that focused heavily on songs from the band's latest album, whose resonance was amplified in a live setting. Though I'm sure many were bummed about not seeing Clairo, and others were there early waiting for Lorde to come on, there was a group next to me who couldn't be more excited to be watching Hurray for the Riff Raff. Singing along to songs like 'SAGA' and 'RHODODENDRON' with them was a joy, and the performance came to a strong conclusion with the album's title track and 'ROSEMARY TEARS'. Life on earth might be long, but the band's set felt all too short, ending a quarter of an hour ahead of schedule. It won't be hard to hold onto the memory of it, though.
Britanny Howard's Stirring, Radiant Voice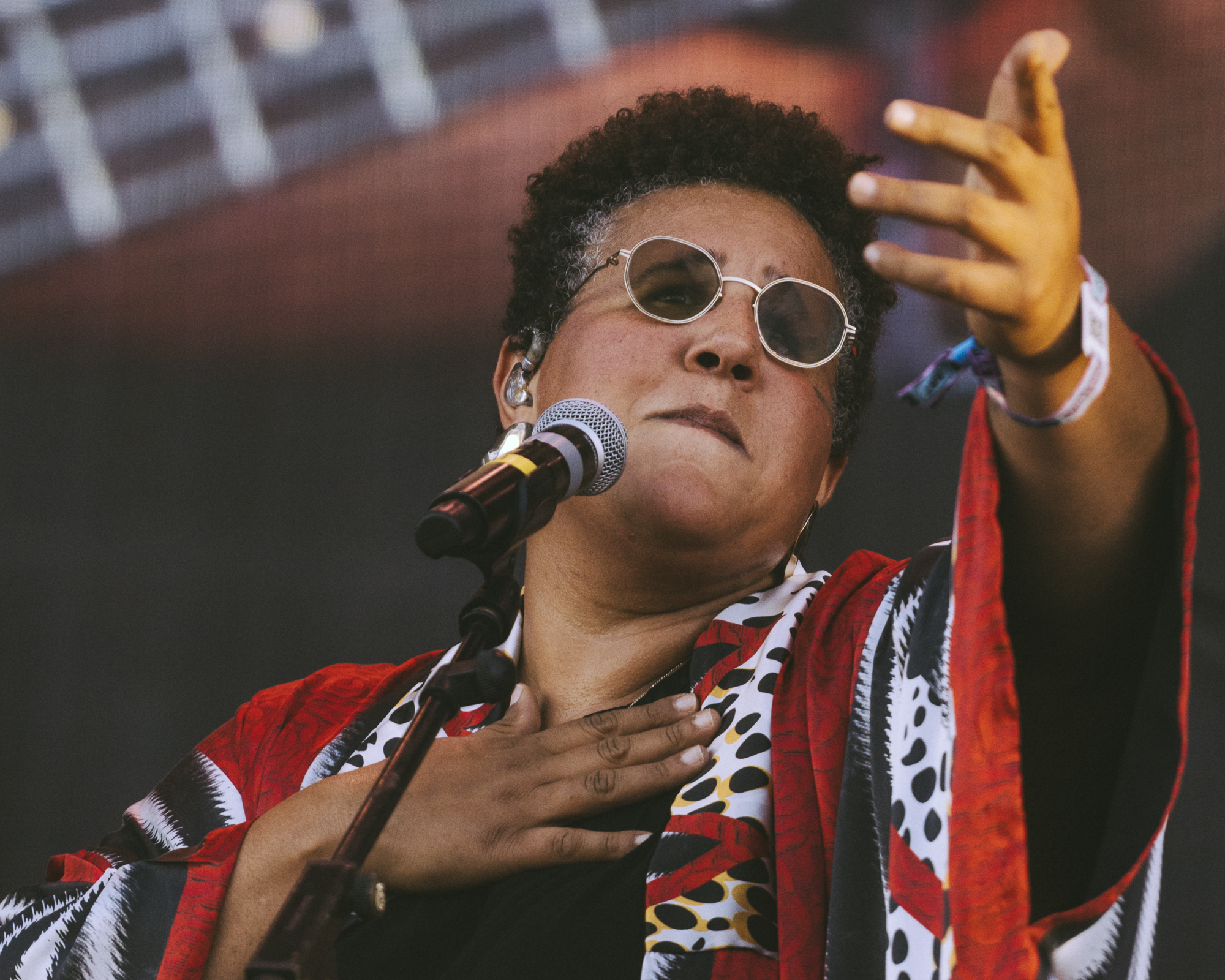 It's hard to leave the audience in awe when they already expect a world-class performance, but that's exactly what Britanny Howard did at the Estrella Damm stage late on Friday evening. Along with her band of virtuoso musicians and backup singers, the Alabama Shakes singer's set was stirring and rapturous, her voice radiating joy and love . Even if her storytelling doesn't have the same resonance in a festival setting, Howard's restless energy vibrated through the crowd as she showcased her powerful and uplifting fusion of soul, synth-rock, and funkadelia. She was just as confident covering other people's songs, which more than suited her message: her take on Jackie Wilson's '(Your Love Keeps Lifting Me) Higher Higher' landed perfectly after the Jamie highlights 'Stay High' and 'Georgia'. "My spirit," she proclaimed towards the end, "will never be stopped." In that moment, it was impossible not to feel the love.
By the Ocean, Lorde Shows Us the Path
Back in my first recap of Primavera 2022 – man, it feels like a lifetime ago – I wrote about the pandemic having essentially wiped out all memory of what live music could do. Well, Lorde was the exception to that. Seeing her on the Melodrama tour a few years ago was the most transcendent live experience I've ever had, and even when live music seemed to have become a thing of the past, I hadn't forgotten how that show made me feel. Lorde (who also played Primavera in 2018) has kept a habit of introducing 'Liability' with a somber monologue, and the one she delivered that night honestly crushed me – and that was before she sang what is easily one of the most heartbreaking songs of the century. I'm already largely basing these reports on my subjective experience, but the context here is too personal to ignore.
'Liability' is, quite simply, a song about loneliness. I went alone to that London concert in 2017, and I was alone at Primavera last night, when Lorde gave another speech about what the song means to her. "When I sing it in front of crowds like you," she said earnestly, "I don't feel alone." I was reminded of that night, and realized how many things have changed since then. For a long time, whenever I felt nostalgic or emotional, I would sometimes get flashbacks to that moment of shared vulnerability. It stirred something in me. Now that it was happening again, that first time felt so distant that I could only identify what I was experiencing as deja vu. But I didn't feel alone, either.
Despite my mixed thoughts on Lorde's third album, Solar Power, I wanted her performance to give me back that feeling – of being completely overcome by emotion, no matter where you are in life, how lost or hopeful or well-adjusted you might be – because at the end of the day, it's still life. Somehow, it's easy to forget how much that means. Even with the overwhelming amount of great music I'd heard over the past week, I didn't think any artist other than Lorde was capable of doing that. I just hadn't realized it was something I needed until I was there, a few feet away from the stage, and I didn't realize I'd been needing it since Lorde was announced as one of the festival's headliners in May 2021, when Solar Power was just a rumour.
Having heard the album multiple times, I knew that if there was a time for those songs to really shine, it would be in a festival like this. Lorde herself reiterated how good it feels to be playing summer festivals again, to be singing these songs in a beautiful place by the ocean. "I write a lot of songs about summertime," she admitted. "Always have, always will." She played four tracks from the album, opening with 'The Path' before performing 'Secrets From a Girl (Who's Seen It All)' and 'Mood Ring' and concluding with 'Solar Power'. The reaction they drew still couldn't rival the songs off Melodrama and Pure Heroine, but they all sounded more at home in this setting, aided by a chorus of passionate fans. Even the voiceover part originally delivered by Robyn in 'Secrets', spoken here by Lorde, made more sense as part of an actual show that also featured a unique, shimmery stage design. Halfway through, she even indulged in a cover of Bananarama's 'Cruel Summer', a song that probably comes closer to evoking what summer means to her than any of the ones on her own record.
Except, of course, for 'Solar Power' itself. Before performing the song, Lorde started talking about the summer, how it tends to bring out a side of you that's a little bit more out there and makes you do things you'd probably regret, and how the song is an attempt to recapture that spirit at any given moment. (I wondered how many more times Lorde giddily uttered the phrase "by the ocean" in the last 24 hours.) It was very different from the 'Liability' speech – less somber, but also no less genuine. Essentially, it boiled down to this: as time goes by, things seem to be getting a little bit better and a little bit crazier at the same time. I'm not concerned about the same things I was five years ago, but I'm still the same person. The same is probably true of Lorde. I just know the songs better now, and I know myself better. For me and anyone who sang and danced along last night, that could only be enough.
The Strokes Don't Let Us Down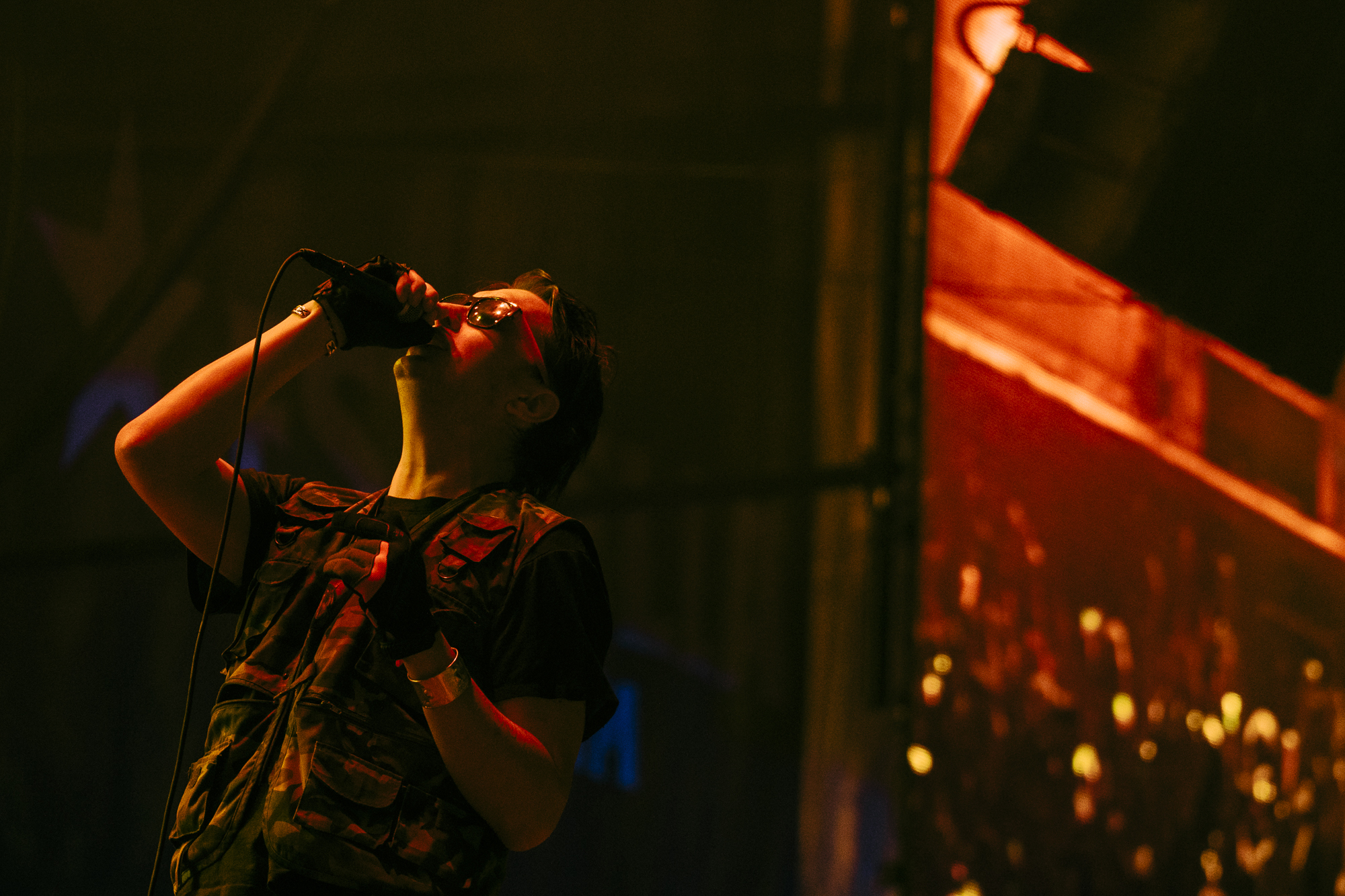 Right before The Strokes came on to the stage on Friday night, the Beatles' 'Don't Let Me Down' started playing through the speakers, which I found to be pretty hilarious. Wouldn't it be ironic if the band whose headlining performance the first week had to be canceled didn't show up the second time? When they did, of course, Julian Casablancas couldn't help but follow his apology by joking that he was the member of the band's crew that got COVID before proceeding to cough at the audience. (If only I had a dime for every time he was "just kidding, obviously.")
I could sit here and give you a detailed report about the musical component of the show, but that would be boring – their set was predictably solid and included enough of their hits (with the exception of 'Last Nite') to leave fans satisfied. I love a lot of those songs, too, but I'd be lying if I said I wasn't mostly waiting for them to end to see what words Casablancas would use to fill out the next moment of silence. Allow me to offer a sample: "I was told I would be speaking to my Catalan people. Bullshit!" "Do animals find us cute? That's the question of the night." (They then launched into 'Reptilia'.) My favorite ones were about how much endurance it takes to be at Primavera: When he said, "I think if I went to this festival I would never listen to music again," I felt that. But there was still plenty to look forward to.
It's All (A Little Bit) New for The Smile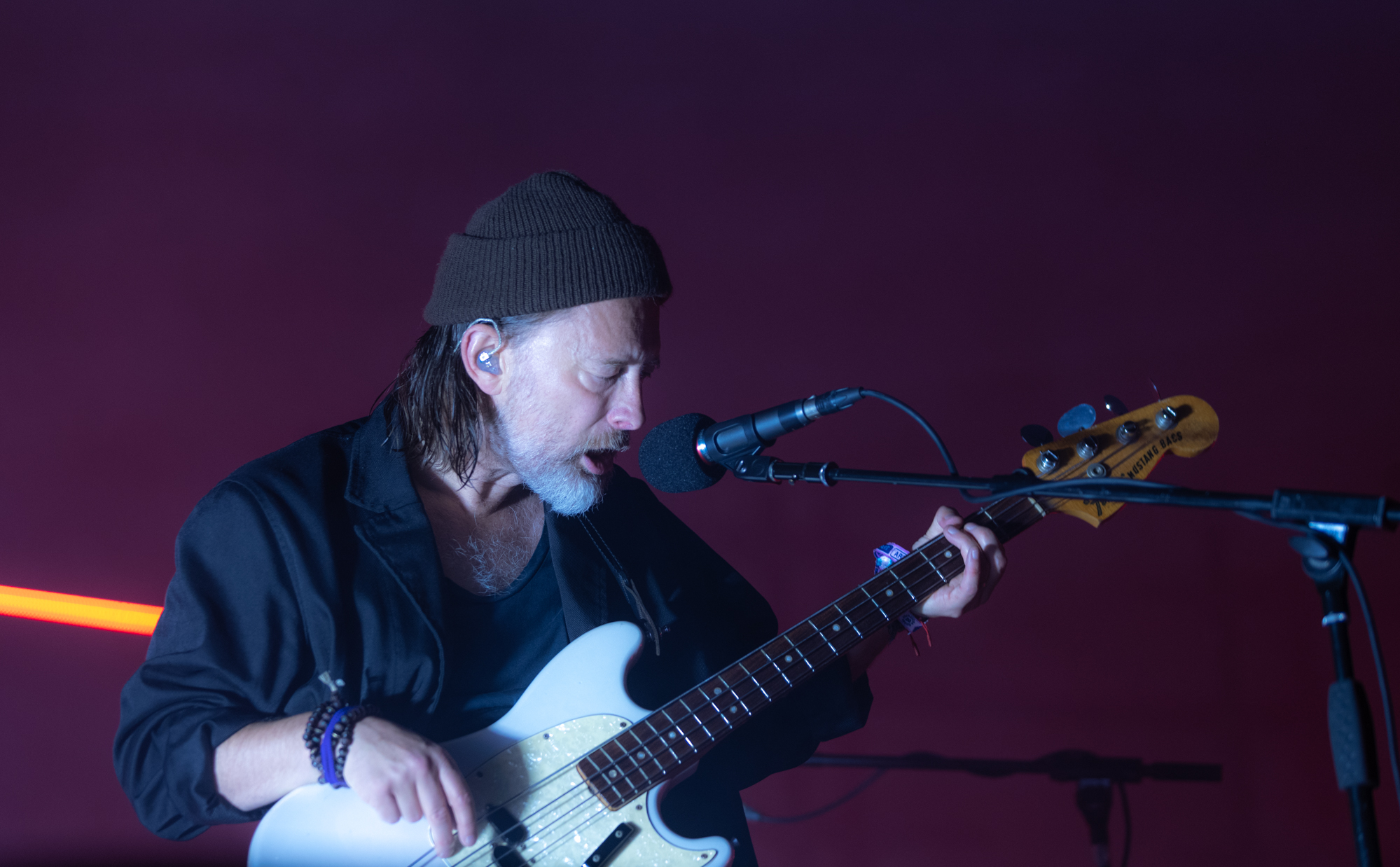 I was expecting the Smile set to be chaotic. If you knew that the band is a Radiohead spin-off consisting of Thom Yorke and Jonny Greenwood plus Sons of Kemmet drummer Tom Skinner – or at least cared enough to look at their picture on the Primavera app (if it worked) and were like, "Hey, that looks like the guy from Radiohead" – you had a good enough reason to be there. Because of that, I thought putting them on the Cupra stage rather than one of the main stages was a bad decision. It certainly didn't help that Julian Casablancas announced that's who he'd be checking out later ("you know, Thom Yorke's band"). Not only was the place not too packed, but it also ended up being a pretty ideal environment to hear the band's music. Though it would have been nice to be able to watch Greenwood on the side screens, the presentation turned the focus almost solely on the music itself.
Seeing them live confirmed my suspicion that the project serves as an opportunity both to preserve what Yorke and Greenwood have built their name on and experience the thrill of something new – of performing under a new name, to potentially (if not that many) new fans. It all felt so new, in fact, that if I hadn't already read reports of earlier live shows, I wasn't sure how they'd be able to fill their set with only an album's worth of songs (a couple of unreleased songs plus a rendition of Yorke's solo track 'Feeling Pulled Apart by Horses' were enough). Walking on to William Blake's 'The Smile' – not, confusingly, the Ted Hughes poem they take their name from – the Smile gave a captivating performance that even those not yet familiar with their music would have been mesmerized by. The rawness and frenzied intensity of the punkier, more fidgety songs – by far the most refreshing part of the project – shone through, but of course, the more Radiohead-like songs sounded gorgeous, too. I've seen Radiohead live, and it felt a lot like that, but it also had that newness about it. I don't think many people were silently begging for them to play at least one Radiohead song. The Smile more than sufficed.
Run the Jewels' Blistering Return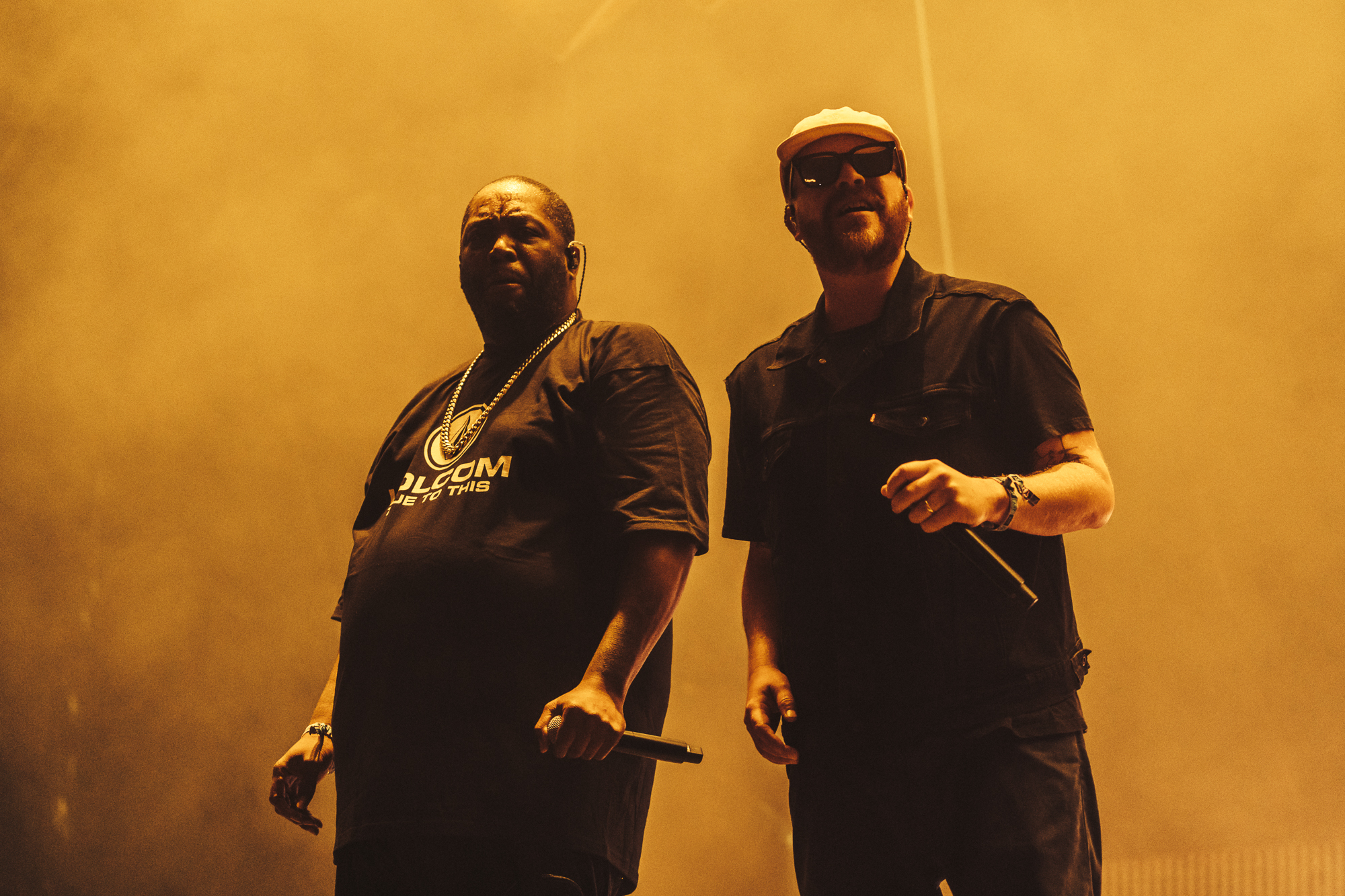 I wasn't there when Run the Jewels last played Primavera in 2017, but Killer Mike and El-P still managed to make last night feel like a comeback. The group took a moment to reflect (maybe not in the same way as Lorde) about how we've all changed in the time since. It's been over two years since they released their fourth album, Run the Jewels 4, in the midst of Black Lives Matter protests following the death of George Floyd, and the music remains as blistering and pertinent as ever. Like that album, Run the Jewels' show was also a reminder of how things haven't changed, including the group itself, whose energy was as riotously fun as you'd expect. What made the performance so potent was the fact that, even when the heavily political and incisive nature of their lyrics didn't land with quite the same impact, Run the Jewels were more than capable of channeling its spirit of defiance, using even the more somber cuts to spread a message of positivity. They had no issue riling up a crowd that, as Julian Casablancas put it earlier, was probably "music-ed out" by that point. "You've just watched the best rap group in the motherfucking world," Killer Mike exclaimed at the end of the show. And honestly, who could argue with that?