The Beths have announced their next album: Expert In a Dying Field is set for release on September 16 via Carpark Records. Along with the announcement, the New Zealand band has shared a video for the lead single 'Silence Is Golden'. Check it out below, and scroll down for the LP's cover artwork and tracklist.
"The song is about stress and anxiety manifesting as an intolerance to noise," the Beths' Elizabeth Stokes said of 'Silence Is Golden' in a statement. "Where each new sound makes you more and more stressed."
The Beths started recording the follow-up to 2020's Jump Rope Gazers at guitarist Jonathan Pearce's studio in Auckland towards the end of 2021, before being interrupted by a four-month national lockdown. They finished writing the album remotely and completed recording in Los Angeles following a US tour.
Expert In a Dying Field Cover Artwork: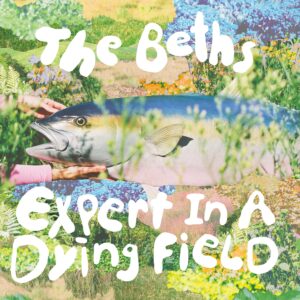 Expert In a Dying Field Tracklist:
1. Expert In A Dying Field
2. Knees Deep
3. Silence Is Golden
4. Your Side
5. I Want To Listen
6. Head In The Clouds
7. Best Left
8. Change In The Weather
9. When You Know You Know
10. A Passing Rain
11. I Told You That I Was Afraid
12. 2am