THICK have announced a new LP, Happy Now, which arrives August 19 via Epitaph. The album finds the Brooklyn trio reuniting with producer Joel Hamilton. Today's announcement comes with the release of the new song 'Loser', which is accompanied by a Jeanette D. Moses-directed music video. Check it out and find the album cover and tracklist below.
"Especially in music, it's so easy to feel like a loser and a fuck-up," the band said of the track in a press release. "We want people to know that it's okay to mess up and that everyone's a loser sometimes. It's really the best way to live, instead of trying to be number-one all the time."
"This song is an anthem for everyone who feels outshined and overlooked by the people around them," they continued. "Ultimately, it's about using that chip on your shoulder to do better and realizing that you're never going to be a winner if you keep using other people as your measuring stick."
THICK released their debut LP, 5 Years Behind, in 2020.
Happy Now Cover Artwork: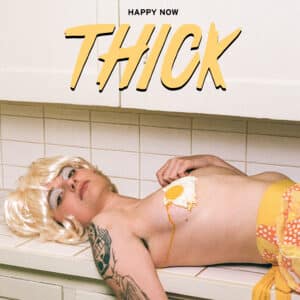 Happy Now Tracklist:
1. Happiness
2. I Wish 2016 Never Happened
3. Loser
4. Tell Myself
5. Her Chapstick
6. Your Garden
7. Montreal
8. Wants & Needs
9. Maybe Tomorrow
10. Disappear
11. Something Went Wrong